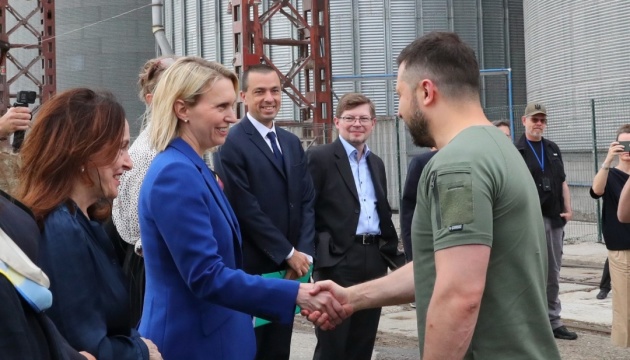 Ukrainian President Volodymyr Zelensky and United States Ambassador to Ukraine Bridget A. Brink have travelled to Odesa and discussed Ukraine's critical military and economic needs.
The relevant statement was made by the U.S. Embassy in Ukraine on Facebook, an Ukrinform correspondent reports.
According to the Embassy, Ambassador Brink visited Odesa with President Zelensky, as well as Ukrainian Infrastructure Minister Oleksandr Kubrakov, the G7 Ambassadors and representatives of the EU, Turkey, and the UN, to see the first Ukrainian grain being loaded onto a ship since February 24. 
Alongside President Zelensky, Ambassador Brink saw for herself in Chornomorsk and Odesa that Ukraine is ready to export, but Russia must honor its commitments to allow Ukraine's food exports to reach those who need it around the world.
"We know Ukraine is seeking every viable route to export grain and other food, and the United States has been working together closely with Ukraine and Minister Kubrakov since the start of Russia's full-scale invasion to facilitate other routes, including overland, to maximize exports," the Embassy noted.
According to the American diplomats, the implementation of the grain deal is key to controlling skyrocketing prices and getting food to those who rely on Ukraine's agricultural exports, and it is up to Russia to fulfill its commitments.
Following the port visit, Ambassador Brink joined President Zelensky to discuss Ukraine's critical military and economic needs as it fights Russia's brutal war and plans to continue momentum on reform, the Embassy added.
Photo: United States Embassy in Ukraine
mk
---
Source: Zelensky, Brink discuss Ukraine's military needs, grain deal in Odesa