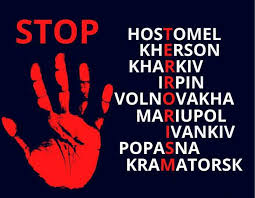 The main messages from the speech of the President of Ukraine Volodymyr Zelenskyy, 29 July 2022 – 23:51
Every occupier who abuses Ukrainians, who tortures and kills, should know that there will be punishment for this. If some of the Russian killers hope that they will not be brought to justice, that they will hide somewhere, let them know – they will answer in any case. Geography, time, borders, walls will not stop a just retribution.
The attack of the occupiers on Olenivka, Donetsk region. It was a deliberate Russian war crime, a deliberate mass murder of Ukrainian prisoners of war. More than 50 dead…
When the defenders of Azovstal left the plant, the UN and the International Committee of the Red Cross acted as guarantors of the life and health of our soldiers. The Armed Forces of Ukraine, the Security Service, the Main Intelligence Directorate and the representative of the Verkhovna Rada of Ukraine issued a joint statement addressing to the UN and the Red Cross as guarantors of those agreements regarding the defenders of Azovstal. I support this statement. Now the guarantors must react. They must protect the lives of hundreds of Ukrainian prisoners of war.
A clear legal recognition of Russia as a state sponsor of terrorism- a long overdue need.
Russia has proven with numerous terrorist attacks that it is the biggest source of terrorism in the world today. It's a fact.
Ukrainian diplomats brought the information about the Russian attack on Olenivka to the highest international level. The UN Security Council has been informed. All participants in international relations will know what really happened. Russia won't be able to lie to anyone. The international community is also informed about all the details of our resistance to Russian hunger terror.
I want to say one more thing today. Russian terror is primarily aimed at breaking our inner strength. Russia cannot do anything to us on the battlefield. Our defenders are very strong. You and I should be just as strong.
Our emotions, our common will to fight must be strong until our very victory. No matter what the occupiers do, no matter how they try to break our spirit, we must hold on, be mobilized and fully focused on what is necessary for our victory.
If any of you feel that you cannot stand the evil that you see, think about how else you can personally help the defense of Ukraine.
Help the Armed Forces! Tell the world the facts about Russian terror! And convince everyone you know in partner countries to increase aid to Ukraine.
We will definitely win. But we have to come to that. We are all together. Eternal memory to all victims of Russian terror! Eternal glory to each and every one who destroys these occupiers! Glory to Ukraine!