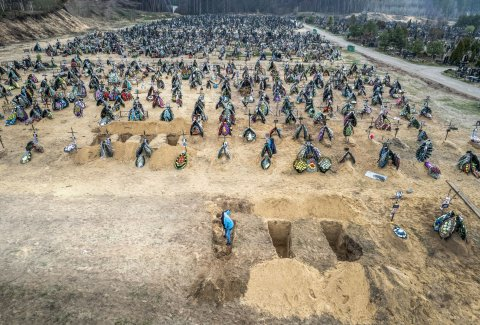 Ukraine claiming that Russia has committed as many as 25,000 war crimes, more than a dozen organizations are busy putting together indictments that they hope will eventually land soldiers, commanders and even Vladimir Putin in court.
Most of these are open-and-shut cases: unlawful killings including summary executions, forced detention, deportations and "disappearances" of civilians, torture and sexual assault. But in the bombing of Ukraine, establishing the basis for war crimes is far more difficult.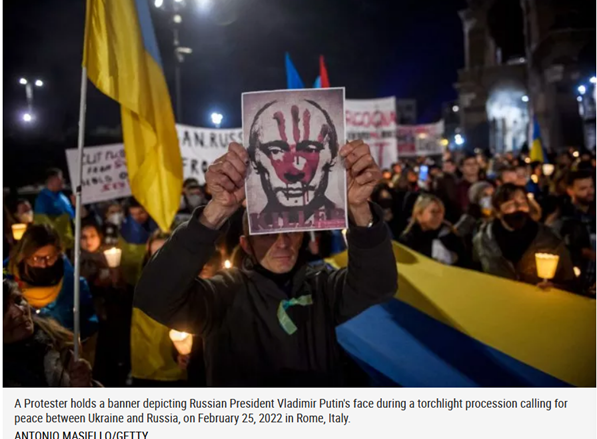 The first several rows contain people killed during the Russian occupation of the area. At least 700 murdered civilians have been found in towns around Kiev, according to Ukrainian authorities. The slayings launched investigations for possible war crimes perpetuated by Russian forces during the occupation.
Russia intentionally killing civilians given the scope of bloodshed and the many strikes on hospitals, schools, homes and shopping centers that have been reported.
Ukrainian authorities tell that they are currently investigating, as war crimes, about 5,000 cases of damage to civil objects, 2,000 illegal deaths and injuries of civilians, and 166 cases of torture. The Office of the Prosecutor General has identified some 600 Russian war crimes suspects, almost all of them soldiers who are accused of everything from rape and torture to outright murder.
On June 27, a Russian missile slammed into the Amstor shopping center in the central industrial city of Kremenchuk, killing 21 civilians and injuring another 100. The response was electric. President Volodomyr Zelensky said Russia was on a "killing spree," labeling the attack "one of the most daring terrorist attacks in European history." French President Emmanuel Macron called it an "abomination." The Group of Seven leaders, then meeting in Germany, issued a joint statement: "Indiscriminate attacks on innocent civilians constitute a war crime," it said. "Russian President Putin and those responsible will be held to account."
International law imposes limits on the conduct of war, including what types of weapons can be used and how they can be used. The general rules, as contained in the Geneva Conventions and other treaties and agreements, revolve around the obligation to distinguish between military and civilian objects. Thus indiscriminate attacks are prohibited, and the warring parties must apply the principles of precaution and proportionality in undertaking attacks.
"Even where a military target exists, using disproportionate force while knowing that the strike will likely cause death or injury to civilians or damage to civilian structures is a war crime," says David Sheffer, the first United States Ambassador-at-Large for War Crimes Issues.
Weapons that are indiscriminate by their nature or those that cause "superfluous injury or unnecessary suffering" are also prohibited. Certain types of weapons (such as poison gas) are outright banned, while others have to be used in particular ways. Even Russia's own military manual relating to the law of armed conflict says that "all types of weapons of an indiscriminate character or that cause excessive injury or suffering" are prohibited. This principle is important, especially when Russia is using obsolete and unreliable missiles, such as the massive 1960's era Kh-22 missile that hit the supermarket in Kremenchuk.
Oceans of words have been spilled to determine the meaning of the many terms and phrases seeking to place limits on warfare. Violations of international law are not the same as war crimes, which are generally defined as "grave" breaches of the law. There are certain acts that constitute war crimes under all circumstances—torture, sexual violence and inhumane treatment, deliberately targeting civilians and intentionally striking certain types of objects (such as religious objects), among others. But the phrase also has a precise and technical definition, and the bar is set very high to attribute and then prove responsibility. Prosecutors need to show that the attacks are not merely accidents or "collateral damage."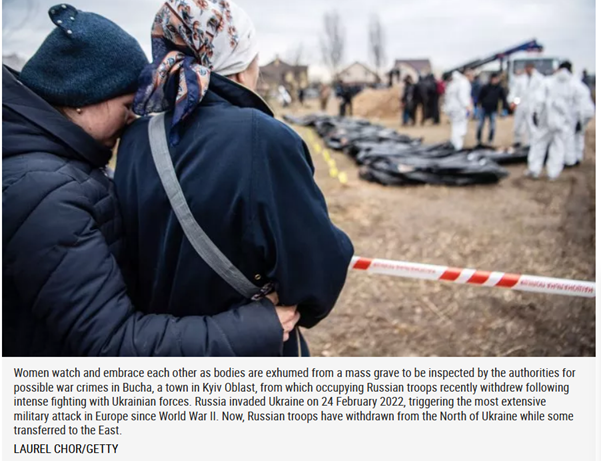 After the supermarket attack, Moscow said the missile was aimed at "hangars with armament and munitions delivered by USA and European countries at Kremenchug [Russian spelling] road machinery plant." On this point, most observers and investigators agree, Russia is lying. The facility in question is about a quarter of a mile (400 meters or 1,400 feet) from the supermarket. Russia claimed that the fire at the supermarket was caused by flying debris coming from the facility, but post-strike satellite imagery clearly shows a crater where the missile fell directly on a corner of the market.
Russia's claims in response to accusations of war crimes, including at the Kremenchuk supermarket, are almost comical. Apparently not content to say that Kremenchuk was a tragic accident, Russia's Deputy Permanent Representative to the United Nations Dmitry Polansky called the civilian deaths a "provocation" by Ukraine, a staged event. The claim harkened back to Russia's assertion that the civilian deaths in the town of Bucha, north of Kyiv, now established to be some 400, were manufactured by Ukraine: that Kyiv hired actors to play the civilians lying in the streets. The Bucha claims were grotesque—and in using the same playbook in Kremenchuk, Moscow's propagandists seemed to want it both ways, saying both that the supermarket was damaged in an attack on a legitimate military-related facility while also saying that the incident was staged.
Moscow further muddied the waters by claiming that the supermarket in Kremenchuk was "non-functioning" (closed), a claim that social media demolished. Yet Google maps do indeed label the market "temporarily closed" and the Google street view shows the parking lot empty in the middle of the day. Obviously Russian intelligence is relying on more than Google maps in choosing what to bomb, but there is some basis for Russia's claims, however disingenuous.
A number of investigations have debunked Russia's various propaganda talking points, but just because Russia is deceitful and craven in its explanations doesn't mean the attack was in fact a war crime. There is no question that Russia is responsible for the supermarket disaster (there is even closed-circuit TV from the scene that captured the descending missile) but was the supermarket actually targeted and intentionally struck? That turns out to be a difficult question to answer, because short of testimony from the Russian bomber crew members who delivered the missile, investigators must look to evidence on the ground, and to Russia's overall practices to see whether or not an attack on a supermarket fits into a pattern with other attacks.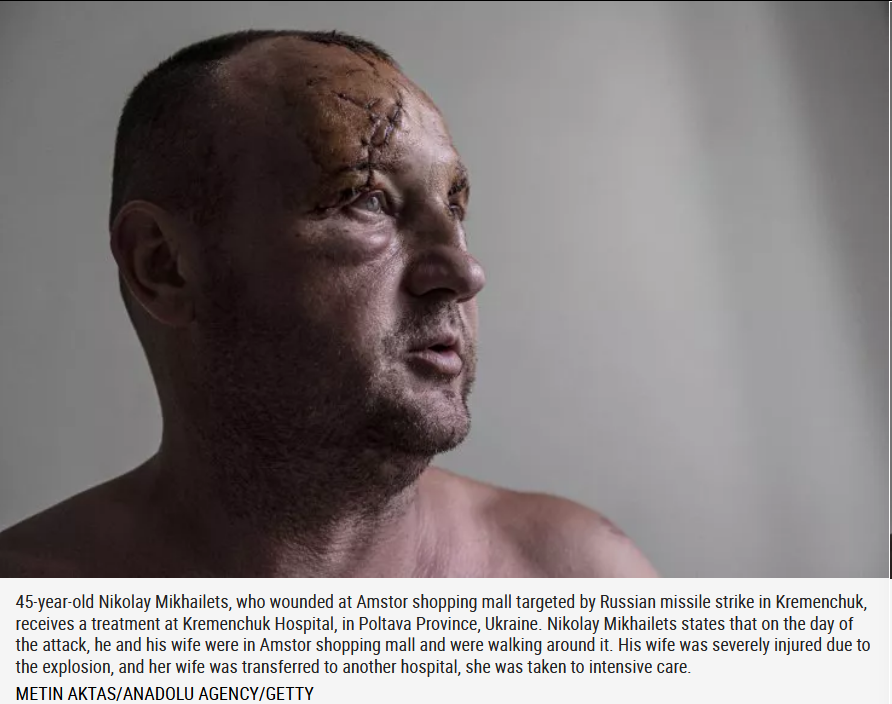 Since Russia invaded Ukraine in February, human rights monitors have been scrupulous in documenting Russian conduct. On the first day of attacks, for example, Amnesty International and Human Rights Watch accused Russia of damaging a hospital in Vuhledar (aka Ugledar), a coal mining town 50 miles north of Mariupol in southeastern Ukraine.
Establishing the facts in this and other cases is a meticulous process: taking witness testimony, documenting who was involved, establishing the weapons used, the damage, and deaths and injuries to civilians. In this case, Human Rights
Amnesty International said the Russian ballistic missile strike on the hospital was "verified" by its Evidence Lab. "The Russian military has shown a blatant disregard for civilian lives by using ballistic missiles and other explosive weapons with wide area effects in densely populated areas," said Agnès Callamard, the organization's Secretary General. "Some of these attacks may be war crimes."
A holiday resort in Odesa
On the night of June 30, another Russian Kh-22 missile hit a multi-story apartment building and two "recreation centers" in the village of Serhiivka on the southern Black Sea coast. The attack killed 22 civilians and injured another 40, the largest number of victims among all Russian attacks in the Odesa region.
In his video address that night, President Zelensky denounced the Serhiivka strike as "conscious, deliberately targeted Russian terror and not some sort of error or a coincidental missile strike."
Russia responded with its usual misinformation. "In Odesa, the Kyiv regime is preparing another sophisticated provocation to accuse the Russian Armed Forces of killing civilians (including minors) and purposefully destroying civilian infrastructure," Russian Colonel General Mikhail Mizintsev said in a Kremlin press release. "All participants in the staged scenes after the video filming are provided with a cash reward in the amount of $500, while $100 have already been paid to each in advance," he said.
Kremlin spokesman Dmitri Peskov told reporters that the attack in Serhiivka was intentional, that Russia targeted an ammunition depot there. Amnesty International visited the location and said their organization found no evidence of the presence of Ukrainian soldiers, weapons, or other valid military targets nearby. "Satellite imagery reviewed by Amnesty International also did not indicate any military activity in the area prior to the attack," the organization said.
"We are doing our utmost to identify the perpetrators," tweeted then-Ukrainian prosecutor Iryna Venediktova. "Seized the missile fragments, took measurements to determine the flight path, obtained videos from surveillance cams."
Shocking Lessons US Military Leaders Learned by Watching Putin's Invasion
Read more
Shocking Lessons US Military Leaders Learned by Watching Putin's Invasion
But U.S. intelligence says there is a significant Ukrainian ammunition depot nearby, one that is clearly identifiable on satellite maps some 2.2 miles (3.53 km) away. None of the news reports mention the depot. The damage in Serhiivka was indeed the work of an errant missile: It is tragic, and Russia is to blame for using such obsolete weapons, but the aim was an attack on a legitimate military target.
The highly unreliable Kh-22 missile (NATO AS-4 Kitchen) that fell in the village is the same missile used in the supermarket attack in Kremenchuk. This 32-foot long missile, designed in the late 1950's, is intended for long-range attacks against naval vessels, specifically aircraft carriers. (A newer version, the Kh-32, used in Kremenchuk, was fielded in 2016.)
It is estimated, under the best of conditions, that a Kh-22 type missile will land within three miles of its intended target, while the updated Kh-32 should land somewhere within 1.5 miles of a desired aimpoint. After the Kremenchuk attack, British military intelligence reported that "these weapons are…unsuitable for precision strikes and have almost certainly repeatedly caused civilian casualties in recent weeks."
Using the Kh-22 missile in attacks on ground targets can be considered war crimes becouse russian commanders or decision-makers knew that the missile's inaccuracy and unreliability and chose to order their use anyway.
Russians soldiers and their commanders have most certainly committed war crimes on the battlefield, even in case weapons could work wrong in Kremenchuk, Vuhledar or Serhiivka.