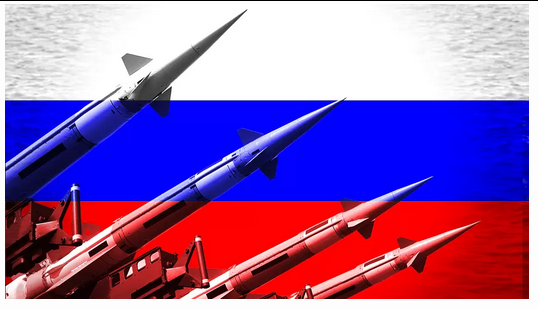 A major United Nations meeting on the landmark nuclear Non-Proliferation Treaty is starting Monday, Aug. 1, 2022, after a long delay due to the COVID-19 pandemic, as Russia's war in Ukraine has reanimated fears of nuclear confrontation and cranked up the urgency of trying reinforce the 50-year-old treaty.
There was already plenty of trouble to talk about when a major U.N. meeting on the landmark Nuclear Nonproliferation Treaty was originally supposed to happen in 2020. Now the pandemic-postponed conference finally starts Monday as Russia's war in Ukraine has reanimated fears of nuclear confrontation and cranked up the urgency of trying to reinforce the 50-year-old treaty.
"It is a very, very difficult moment," said Beatrice Fihn, the executive director of the Nobel Peace Prize-winning International Campaign to Abolish Nuclear Weapons.
Russia's invasion, accompanied by ominous references to its nuclear arsenal, "is so significant for the treaty and really going to put a lot of pressure on this," she said. "How governments react to the situation is going to shape future nuclear policy."
Challenges have only grown in the meantime.
When launching the Ukraine war in February, Russian President Vladimir Putin warned that any attempt to interfere would lead to "consequences you have never seen" and emphasized that his country is "one of the most potent nuclear powers." Days later, Putin ordered Russia's nuclear forces to be put on higher alert, a move that U.N. Secretary-General António Guterres called "bone-chilling."
"The prospect of nuclear conflict, once unthinkable, is now back within the realm of possibility," he said.
The events in Ukraine create a tricky choice for the upcoming conference, said Patricia Lewis, a former U.N. disarmament research official who is now at the international affairs think tank Chatham House in London.
"On the one hand, in order to support the treaty and what it stands for, governments will have to address Russia's behavior and threats," she said. "On the other hand, to do so risks dividing the treaty members."
Another uncomfortable dynamic: The war has heightened some countries' apprehensions about not having nuclear weapons, especially since Ukraine once housed but gave up a trove of Soviet nukes.
Conference participants can stress other security strategies or emphasize the costs and dangers of acquiring nuclear weapons, but "it's important not to be too preachy," said Michael O'Hanlon of the Brookings Institution think tank in Washington.
"The idea that we can just look other countries in the face and say, 'You're better off without the bomb' — that's a bit of a hard argument to carry right now categorically," said O'Hanlon, a senior fellow specializing in defense and security.
"You can have no doubt that Russia's actions will affect the climate at the conference and prospects for an agreed outcome document. Other difficult issues may complicate this, as well. But I'm prepared to be somewhat optimistic," he said in a telephone briefing.
Undoubtedly, Russia is difficult to deal with. Putin has bungled foreign relations quite badly, but the rest of the Western world has to admit, that policies driven by a misguided fear of provoking Putin have in fact provoked Europe's biggest war since the days of Hitler and Stalin. Continuing along the path of appeasement and compromise will only make the problem worse.
This fear of provoking Putin represents a dangerous misreading of the geopolitical situation that plays directly into Russian hands.
In reality, there is nothing more likely to encourage further Russian aggression than decisions driven by a desire to avoid provoking Putin. Today's uncertainty about unwavering is a key factor allowing Putin to dream about reoccupying the country. It emboldens the Russian dictator and encourages him to continue the war while believing he can end Ukrainian hopes of European integration and force the country back into the Russian orbit.
The possibility can turn in reality, so we should be considered about threats from russia, its wiling using biological, chemical, or nuclear weapons in Ukraine. These are difficult decisions that will require serious sacrifice on the part of Western publics. They will also raise tensions with Russia to new levels and make normalization seemingly impossible once the shooting stops.
One of variant can be – to establish and enforce a no-fly zone in the Donbas: The United States and participating NATO members should announce the establishment of a no-fly zone in the Donbas region. Russian air defenses in the Donbas would be struck, and any Russian planes, helicopters, unmanned aerial vehicles, and drones flying in the Donbas airspace would be destroyed.
Undertake a punitive military operation to reestablish the pre-February 24 line of contact: The United States and participating NATO members should execute a limited air, missile, and naval operation to augment Ukrainian forces in dislodging Russian forces from territory gained since the initiation of the Russian invasion. Allied forces would destroy Russian air and air-defense forces to establish air superiority, and air and missile strikes would be used to attack and decisively defeat Russian ground forces, command-and-control nodes, reinforcements, logistics and supply routes, as well as Russian naval vessels that have instituted a blockade of Ukrainian ports and cut off the nation from resupply by sea.
The scope of this option could be expanded to include dislodgment of Russian forces from all Ukrainian territory, including Crimea and separatist-held portions of Donetsk and Luhansk oblasts. This step is at the top of the ladder and should be reserved for only the most extreme Russian provocation, given the real risk that it could lead to World War III.
NATO, Europe must demonstrate the kind of strength that Russia understands and respects.
We need security system change, with recognises the extreme danger that the current situation poses and how NATO will act to start resolving this.