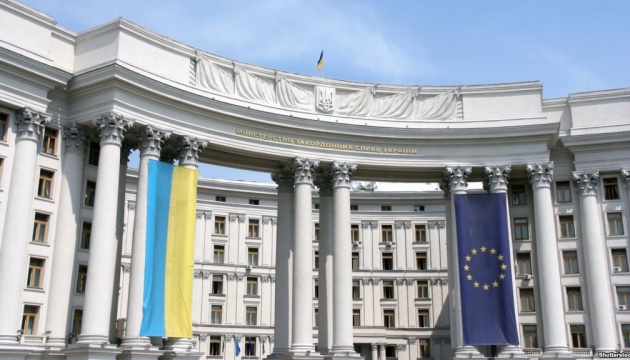 The Ministry of Foreign Affairs of Ukraine has called on Serbia and Kosovo to refrain from actions that could provoke violence.
This is stated by the spokesperson for the Ministry of Foreign Affairs, Oleg Nikolenko, Ukrinform reports.
"We are monitoring the situation in the south of Serbia. The parties should refrain from actions that could provoke violence," the spokesperson said.
The diplomat strongly advised citizens of Ukraine to refrain from visiting the southern regions of Serbia and to avoid mass gatherings.
He also informed that on the instructions of Minister for Foreign Affairs Dmytro Kuleba, an operational headquarters was established at the Embassy of Ukraine in Serbia and a 24-hour "hotline" was opened to help Ukrainians: +381631113185.
In the event of an emergency, Ukrainians are also offered reach out to MFA's hotline at +380442381588.
"In case of further aggravation of the security situation and blocking of roads in the south of Serbia, we recommend that Ukrainians cross at checkpoints on the border with the Republic of North Macedonia," Nikolenko said.
As reported, Serbs in the north of Kosovo on Sunday blocked with trucks the main road near the Jarinje border crossing. It is also reported that the Pristina – Raska motorway was also blocked.
The Kosovo Police announced that the Yarinje and Brnjak border crossing points were closed due to the blockade. Alternative routes are now being used.
The escalation came as the authorities in Kosovo were to introduce new license plate registration rules for Serbs living in its northern parts, which sparked unrest.
In the wake of escalation, Kosovo delayed the plan – a move welcomed by EU's top diplomat Josep Borrell.
In turn, NATO's KFOR mission, operating in the region, said it was "prepared to intervene if stability is jeopardized."
---
Source: Serbia, Kosovo must refrain from actions that could provoke violence - MFA Ukraine