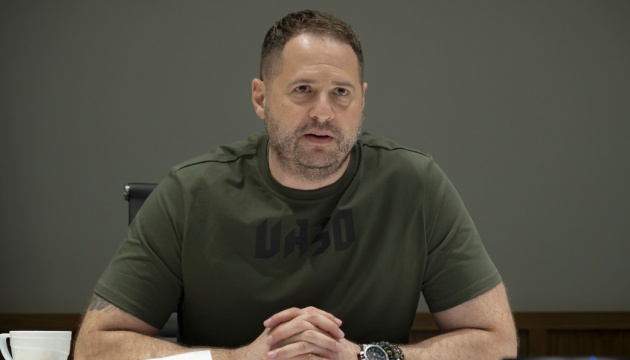 Ukraine's long-term goal is NATO membership, but until then Ukraine needs security guarantees from its allies.
This was stated by the chief of the President's Office, Andriy Yermak, who penned an op-ed for The Guardian, also writing a Telegram post, Ukrinform reports.
"Although Ukraine's long-term goal remains Nato membership, we recognise that Russia's current belligerence makes that difficult. In the meantime, however, we need legally binding guarantees by our allies for the provision of weapons, exchange of intelligence, the support of our defence and the protection of our economy," wrote Yermak.
He emphasized that Ukraine had already seen an unsuccessful experience of the Budapest memorandum, whose wording "did not stand the test of time," while emboldening Russia's ambitions, which, along with the mistakes of the past, have endangered global security.
Therefore, for Ukrainian and international security, according to the head of the President's Office, it is important to develop new security guarantees that would be "strong and effective."
"This corresponds to the interests of Ukraine and world powers. These guarantees can become one of the pillars of the world order," Yermak wrote on Telegram.
At the same time, Yermak emphasized that there is no such peace agreement under which Russia would put its signature and then keep its word.
"Given its actions in Syria, and its behaviour after the seizure of Crimea, it should be obvious that Moscow is using peace talks as a distraction and a trap, not as a solution," the head of the President's Office is convinced.
According to Yermak, a special international group on security guarantees intends to present their recommendations to the global community in the near future.
"Assurances do not work, guarantees are needed, because this is an opportunity for the West to oppose Russia's barbaric ambitions," Yermak emphasized.
As reported, on July 1, the inaugural meeting of the consultation group on developing security guarantees for Ukraine took place. The group's co-chairs are Andriy Yermak and former NATO Secretary General Anders Fogh Rasmussen.
Photo: Ukrainian President's Office
---
Source: Joining NATO remains Ukraine's long-term goal - chief of Zelensky's Office