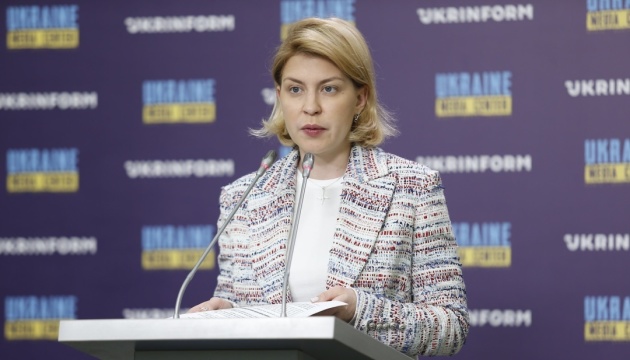 Ukraine has fulfilled almost 70% of its obligations under the Association Agreement with the European Union and is aware of the need to complete all legal procedures for membership in the European Union. At the same time, by the end of the year, the Ukrainian authorities want to receive political clarity from EU leaders regarding the next steps on this path.
Deputy Prime Minister for European and Euro-Atlantic Integration of Ukraine Olha Stefanishyna said this during the opening of the communication campaign "Together, we are Europe", an Ukrinform correspondent reports.
"We need to understand how long and difficult our path to membership in the European Union will be, not only in terms of the negotiations. We will really have to fulfill the necessary components for joining the EU. We have the energy and desire for this. The only thing we need what is missing is political clarity regarding further steps," Stefanishyna said.
In this context, she recalled the President's words that the process of European integration remains the main motivator for the Ukrainian society, which unites more than 90% of Ukrainians. It also gives energy to the Armed Forces of Ukraine, which are now at the forefront of the fight against Russian aggression for the European future of Ukraine.
"We do not want the process of our joining the EU to be bureaucratic. Of course, as a state, we demonstrate our ability to go through all the necessary legal procedures related to membership as much as possible, but we do not want politicians and EU leaders to drag this process into bureaucracy. Taking into account those challenges Ukraine is facing, and the fact that the commitment of the Ukrainian people and Ukraine to the principles of democracy is evident, as well as the fact that we have fulfilled almost 70% of all obligations under the Association Agreement – all this gives us an opportunity to say that it is not necessary to evaluate us from scratch, but it is necessary to take political decisions. And we want to get such political clarity by the end of the year," said the Deputy Prime Minister.
As reported, on June 23, the Heads of State and Government of the European Union approved a decision to grant Ukraine the EU candidate status.
iy
---
Source: Ukraine fulfilled 70% of its obligations under Association Agreement with EU - Stefanishyna