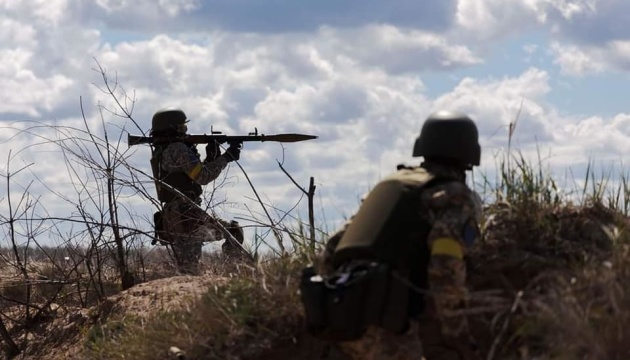 In southern Ukraine, the Armed Forces of Ukraine have repulsed an enemy assault near Potiomkine.
The relevant statement was made by the South Operational Command on Facebook, an Ukrinform correspondent reports.
"With a motorized rifle platoon and the support of two BMP-2 infantry fighting vehicles, the enemy conducted assault actions in the direction of Potiomkine but failed and retreated with losses," the report states.
As of 01:00 p.m., battles in the direction of Blahodatne were underway.
Russian troops conducted air reconnaissance, but the Ukrainian air-defense missile units destroyed Russia's Orlan-10 UAV near Vysokopillia.
The enemy continues to strike the back areas and settlements.
Russian invaders used heavy artillery against Nikopol District, Dnipropetrovsk Region. As a result, one of enterprises caught fire and lost equipment.
In the city of Nikopol, Russian projectiles caused damage to a school and public transport stop. One residential house was destroyed and about 20 houses damaged. Gas pipelines and power transmission lines went out of service.
Last night Russian troops launched two missile attacks.
In particular, the city of Mykolaiv was struck with the S-300 system missiles. Industrial and military infrastructure facilities were hit in several districts. No casualties among civilians were reported.
The enemy also fired five Kalibr-type cruise missiles from the Black Sea at Odesa Region. Two missiles were shot down by the Ukrainian anti-aircraft defense units over the sea. The rest of missiles hit an agricultural enterprise situated in Odesa District, namely its grain storage and open areas. No casualties were reported.
The enemy's naval group in the Black Sea now consists of two large landing crafts and five missile carriers with over 30 Kalibr-type missiles.
mk
---
Source: Ukrainian military repulse enemy assault in southern Ukraine