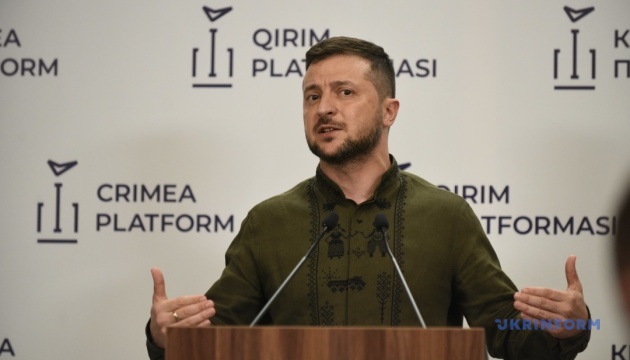 President Volodymyr Zelensky of Ukraine says the issue of any peace negotiations with the Russian Federation is irrelevant as long as the aggressor pursues bloody murders and violence.
The president spoke on the issue during a Kyiv press conference on Tuesday, an Ukrinform correspondent reports.
"First of all, it's not yet 'post-war.' We all have to understand this. Now we have a war ongoing. Secondly, everything is happening in such a way that there can be no talk of negotiations yet. Thirdly, the narratives that Russia is spreading, that Ukraine doesn't want peace, sound ridiculous, to say the least," Zelensky said.
According to the Ukrainian leader, Russia, with its daily attacks, breakthroughs, offensives or retreats, accompanying all this with bloody murders and violence, tells everyone that they don't see any negotiations other than "certain ones". The head of state added that the Ukrainian side explains that everything the Russians have done shows that they are not thinking about any dialogue at all, and never have.
"They decided to occupy our country. They are the same as they were in 2014: they made a decision and the world failed to hit them hard in their face, it just didn't do it, so they went on, and on, and on, and now we're hitting them in the face," Zelensky said.
As reported, after a recent meeting with Turkish President Recep Tayyip Erdogan and UN Secretary GeneralAntonio Guterres, President Volodymyr Zelensky stated that the Russian Federation cannot be trusted, therefore negotiations with Russia would only be possible after they withdraw their troops from all temporarily occupied Ukrainian territories.
Also, the advisor to the head of the President's Office, Mykhailo Podolyak, compared negotiations with Russia to a game of "Russian roulette" with a full drum and a fatal ending for everyone if the current war, terror, and blackmail continue.
---