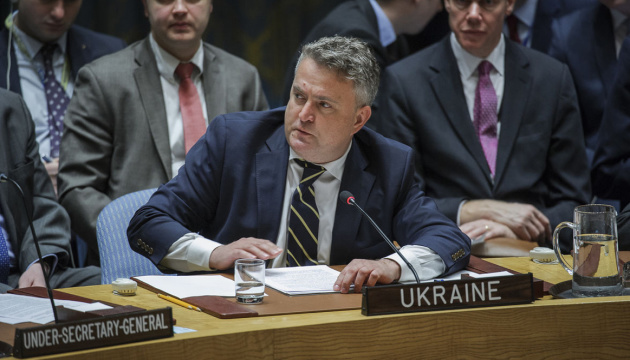 The Russian delegation tried to exert pressure on IAEA Director General Rafael Grossi when his team was drafing a report on the situation at the Zaporizhia Nuclear Power Plant.
This was stated by Ukraine's Permanent Representative to the United Nations, Sergiy Kyslytsya, who addressed the meeting of the UN Security Council dedicated to the situation at the ZNPP, according to Ukrinform's own correspondent.
"It is interesting indeed to observe in this Chamber how the russian envoy whines that he has not had time to properly study the released report of the IAEA, as if it was not russia itself that called in such an urgent manner this meeting," Kislytsia noted.
In his opinion, "the only thing that explain this russian bustle is an attempt to exercise pressure on Director General Grossi and his team while they were still drafting the report."
When this plan failed and the document was published ahead of the UNSC meeting, the Russian envoy "desperately has tried to manipulate with the report that as he himself admitted he did not have time to study," Kyslytsia explained.
He also offered a piece of advice to the representative of the Russian Federation: "Next time be patient, do not bustle unless it is about the withdrawal of the Russian army from Ukraine."
As Ukrinform reported earlier, Russia's Permanent Representative to the UN Vassily Nebenzya, expressed his dissatisfaction with the IAEA report, as it recorded the presence of Russian troops and military equipment at the ZNPP. He rhetorically demanded from Grossi specify exactly what kind of military equipment he saw at the plant, and tried to convince UNSC members that it was never deployed there. At the same time, the Russian diplomat said that he had not enough time to study the report in detail.
On Tuesday, at the request of Russia, the UN Security Council met for the third time in two months to consider the situation at the Zaporizhia NPP.
The Russian delegation has traditionally tried to use the UNSC as a platform for spreading false narratives and disinformation, accusing the Armed Forces of Ukraine of attacks on the occupied ZNPP, which in fact is regularly shelled by Russian troops.
---
Source: Ukraine at UN: Russia put pressure on IAEA chief over ZNPP report