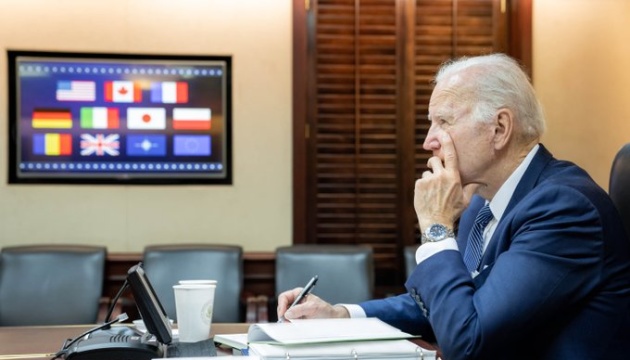 U.S. President Joe Biden has held a video conference with the leaders of ally and partner countries, dedicated to the situation in Ukraine and continued military and economic assistance to the embattled nation.
That's according to White House spokesperson Karine Jean-Pierre, Ukrinform's own correspondent reports.
"This morning, the President hosted the video conference with allies and partners to underscore international support for Ukraine, including through continued security and economic assistance, and the sustained imposition of costs on Russia to hold the Kremlin accountable for its aggression," the spokeswoman said.
She noted that the parties had discussed Russia's weaponization of energy and additional steps to secure sustainable, affordable energy supplies for Europe. 
"They committed to continued close consultation on this issue," said Jean-Pierre.
As Ukrinform reported earlier, Joe Biden on Wednesday approved a new package of assistance to Ukraine worth $675 million.
Photo: President Biden, Twitter
---
Source: Biden discusses with allies further support for Ukraine