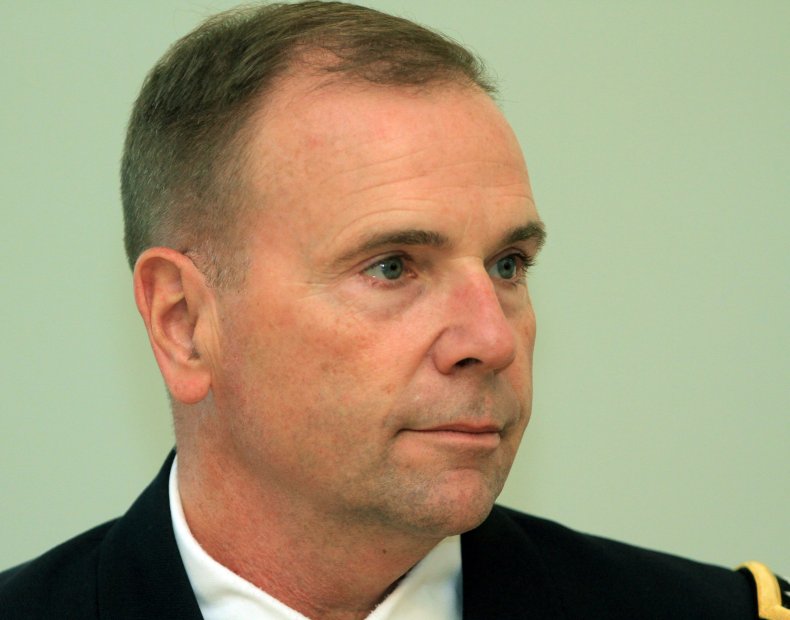 The ongoing war in Ukraine and its aftermath may result in the end of modern Russia as the world knows it, according to one retired U.S. general.
Speaking to Newsweek, Ben Hodges, who was the commanding general of United States Army Europe, stressed the importance of being prepared for the potential "break up" of Russia "as it looks today."
He listed four factors that he said lead him to believe that such a break up is feasible: the exposure of Russia's military as "corrupt" and not nearly as effective as it was regarded, trouble for Russia's economically important energy sector and defense industry, a shrinking Russian population, and "pervasive corruption" that will become unacceptable to Russian civilians paying the price for sanctions imposed in response to the Ukraine invasion.
"The combination of battlefield losses and the impact of sanctions on domestic Russia will make it very difficult for the Kremlin to sustain things," he said.
When Russian President Vladimir Putin launched his attack on Ukraine on February 24, some expected to see a speedy Russian victory within days. But fierce Ukrainian resistance subverted expectations on how the conflict would unfold, causing Russia's image as a superior military power to crumble. The war has now stretched on for more than six months and marked its 200th day on Sunday, a time during which Western countries have vehemently criticized what Putin describes as his "special military operation" and imposed unprecedented sanctions on Russia.
Hodges said that the General Staff of the Armed Forces of Russia have seen "disastrous outcomes" due to four miscalculations they made upon entering Ukraine. The first is that the Kremlin believed that it had force advantage, and the second was that it thought Ukraine could be isolated from third party support, he explained.
Russia is reportedly facing manpower shortages and has been conducting a recruitment campaign and offering incentives in order to make up for the shortfall. Meanwhile, Ukraine has received assistance from various NATO and Western countries including the U.S., which last week announced its newest $675 million Ukraine security assistance package.
The other two of Russia's miscalculations are that it believed "the gain of destroying Ukraine would be worth any pain," such as sanctions, and that it would get the added bonus of being able to "break" NATO as well, according to Hodges.
"All four were obviously wrong," he said.
Kremlin spokesman Dmitry Peskov admitted while speaking to Russian-state media in June that the country's economic situation amid the war was "not easy." NATO, meanwhile, has stood behind Ukraine and actually stands to grow stronger as Sweden and Finland near membership.
Hodges said that Russia has four new strategic objectives in the war: reorganizing so it can see some semblance of victory and extract itself from the situation, fix its troubled economy and find new markets, ensure the survival of its regime, and rebuild to levels of strength from before the war.
"They assume we'll lose interest in the next few years so they'll plan to pick back up where they left off," he said, and added that this underlines the importance of Russia being "crushed now" so it doesn't have the opportunity to take additional aggressive action in the future.
When asked if Putin would still be in power in the future, Hodges responded that it's "hard to tell."
"He's spent the last 20 years making himself coup-proof and while I don't rule it out, I don't yet see the beginnings of an internal decision to remove him," he said.
Last year, the longtime Russian leader signed a law that could keep him in power until 2036. If that were to happen, Putin will hold the office for 24 consecutive years.