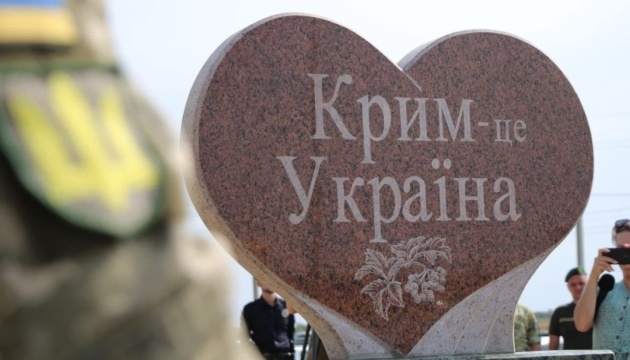 The nation will be able to return to a peaceful life when it regains all its lands, including Crimea.
President Volodymyr Zelensky of Ukraine said this in an interview with Reuters, an Ukrinform correspondent reports.
"Ukraine will be able to live peacefully when it regains all its lands, which is the absolute truth," the president said.
According to Zelensky, calm and confident life and the country's development depend not only on external factors, external enemies or friends. A stable situation in Ukraine is also an inner feeling, the inner respect of the people for each other, for state institutions, and for everyone who lives here, so this is really important to live in peace and harmony.
"I believe that the atmosphere and character are very important for us, what we have within the country is no less important than what is outside. This, by the way, was one of the factors of stability from the very beginning of the Russian invasion: internally, the country was united – and stable. This atmosphere must be lost. But this atmosphere will be lost if we fail to restore our borders, our territorial integrity," Zelensky believes.
In his opinion, in this case it will be "an unfinished story and an endless war – even if it ends. If there are no shots, there will be something else there."
"I don't want to talk about it now, because I don't know it. I know one thing – that the war will eventually end in Ukraine. There must be inner peace," he said.
The president of Ukraine believes that future generations should know what to count on.
"We must have pride for ourselves… I want to live in Ukraine. I fought for it, and I still fight, and many people died, unfortunately. But what did they fight for? Here is the answer, and the answer should be clear and obvious," Zelensky clarified.
Answering questions about Ukraine's intention to return Crimea, and whether the country will be able to do it, he stated that there is no other way out – these territories must be liberated from the Russian Federation.
"… It may happen that Crimea will be returned by diplomatic means. This could happen… What kind of people will discuss this issue and when it will happen – I cannot say at the moment. But, nevertheless, this is my opinion," he said.
Responding to a question about the statement by Commander-in-Chief of the Armed Forces of Ukraine Valeriy Zaluzhnyi that Ukraine fired missiles on Russian air bases in Crimea, Zelensky, among other things, clarified that Ukraine shows the whole world that it is a civilized nation, in particular, when during the war the country makes civilized steps.
"We do not shoot at civilian infrastructure, at civilians. We target the militarized infrastructure of the occupied parts of our country. This is what I can say about what you asked me," he said.
As reported earlier, Ukrinform published a joint article by the Commander-in-Chief of the Armed Forces of Ukraine, General Valeriy Zaluzhnyi, and First Deputy Chairman of the Parliamentary Committee on National Security, Defense, and Intelligence, Lieutenant General Mykhailo Zabrodskyi, entitled "Prospects for running a military company in 2023: a Ukrainian perspective."
Among other things, it discussed the successful efforts by the Armed Forces of Ukraine to physically transfer the hostility zone to the territory of the Crimean Autonomous Republic, temporarily captured by the Russian Federation.
"We are talking about a series of successful missile strikes against the enemy's Crimean air bases, first of all, against the Saky airfield," the article said.
---
Source: Crimea could be returned through diplomacy - Zelensky