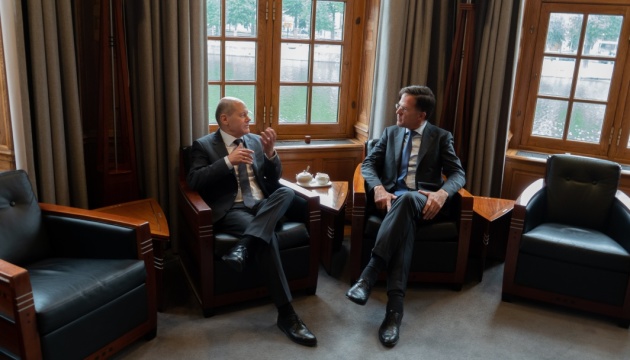 Prime Minister of the Netherlands Mark Rutte and German Chancellor Olaf Scholz in a phone call on Monday discussed further military support for Ukraine.
That's according to a tweet posted by Prime Minister Rutte, Ukrinform reports.
"We welcome Ukraine's recent military successes. They show that international military support is working. We agreed that we will continue our support, including via Dutch-German military cooperation regarding the war in Ukraine," he wrote.
He also noted that the two leaders also discussed measures to overcome the energy crisis in Europe.
As Ukrinform reported earlier, Germany decided to give Ukraine more MLR systems when the government saw how effective they proved, being manned by Ukrainian forces on the battlefield. Berlin has been supplying weapons to Ukraine, while stopping short of sending infantry fighting vehicles and main combat tanks. Berlin says the position is due to Germany's efforts to avoid direct confrontation between NATO and the Russian Federation.
German Chancellor Olaf Scholz reaffirmed his position in a Saturday interview with Deutschlandfunk. He assured the public that he would always be "prudent" and not make decisions without first coordinating them with the allies. At the same time, the politician acknowledged that there are "no uniform truths," and the steps being taken today "make sense at this period of time. "
Chancellor recalled that Germany started off with the supplies of weapons that were immediately available, before expanding the list. Germany, according to Chancellor, does "a lot, namely, which has led to the fact that the situation has changed in military perspective." He specified that this is about the supply, together with the Netherlands, of self-propelled howitzers, highly efficient weapons, "perhaps the most modern ones, which were used in this battle (in the east of Ukraine)." Only three states – the United Kingdom, the United States, and Germany – have supplied multiple rocket launchers, which also contribute to the results shown by the Armed Forces of Ukraine.
Photo: Mark Rutte, Twitter
---