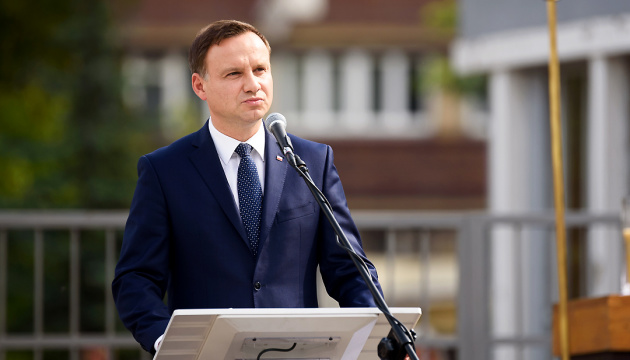 If Russia breaks the nuclear taboo and employs tactical nuclear weapons against a country that doesn't have them, while defending itself on its own soil using conventional weapons, it "will be excluded from the civilized world," entailing enormous consequences for the Russians.
Polish President Andrzej Duda made the statement on the sidelines of the 77th session of the UN General Assembly in New York, Ukrinform reports with reference to Polsat News.
"The U.S. also has buttons that launch nuclear missiles. The USA is a major nuclear power, the largest military power in the world. The fact that the USA takes this Russian threat seriously is also a threat to Russia," Duda said.
He emphasized that, if Moscow breaks all taboos and uses even tactical nuclear weapons against a country that doesn't have nuclear weapons, while defending its territory using only conventional weapons, Russia "should expect a response."
Duda noted that Washington consistently implements the line of a "firm, resolute, and calm response" to Russia.
Poland's leader noted that Putin, his entourage, and generals are aware that, should they employ nuclear weapons against Ukraine, which is defending itself, they will "find themselves outside global politics."
"For them, this is not only about the threat of tribunals, criminal liability, and potentially long prison terms, but also about simply being excluded from the civilized world as long as they are in power in Russia," Duda emphasized.
As Ukrinform reported earlier, in his address on September 21, Russian President Vladimir Putin resorted to nuclear threats. In response, U.S. President Joe Biden said that America remained ready to take critical measures to ensure global nuclear non-proliferation, while EU High Representative Josep Borrell noted that Putin's nuclear threats would not reduce the level of EU support for Ukraine.
---
Source: Duda on Russian nuclear blackmail: U.S. has nuke button, too