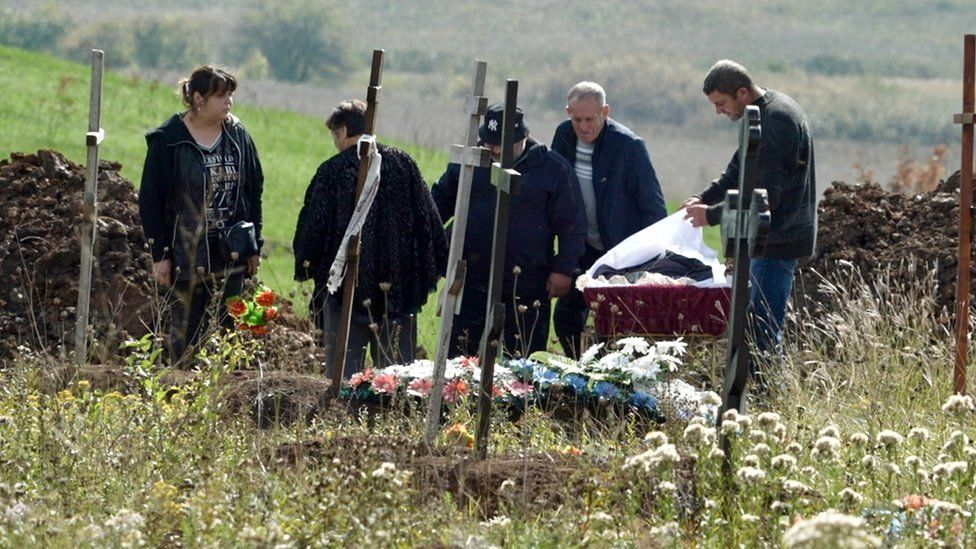 As Russia's Vladimir Putin announces the annexation of swathes of sovereign Ukrainian territory, issues nuclear threats and mobilises hundreds of thousands of reservists, the response from Ukrainian forces on the eastern front is unchanged – they will fight for every last inch of soil.
We travel to front-line positions in the city of Bakhmut in Donetsk – one of the four regions which President Putin is now illegally claiming as his own. Our journey is made in stages.
We slow down to cross the Bakhmutovka river, speed up to cover exposed ground, then weave through a dangerous curtain of downed power lines. For the last few metres, we run. All the while, the shelling is constant – part of war's familiar soundscape.
But when we reach the front-line troops, inside a battle-scarred building, we hear something else – the crackle of small arms fire. The two sides are so close they can target each other with rifles.
The Russians are around 400 metres (437 yards) in front of us, and trying hard to close in. We are warned there is a Russian sniper to the rear.
At his post below ground, where a ginger cat keeps him company, the unit commander is sombre and blunt.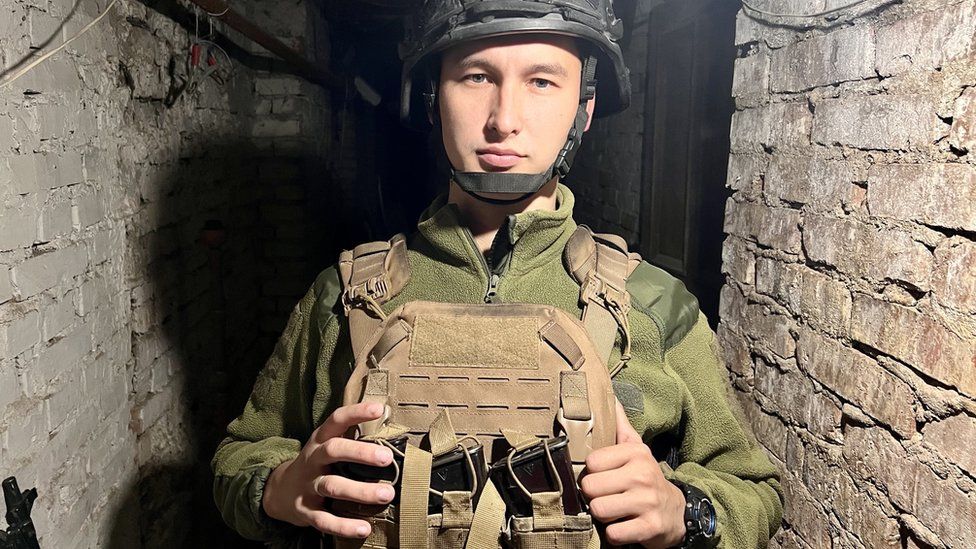 "It's pretty hard here now," says Oleksandr, a 31-year-old. "It's stressful. Everyone is under pressure. The enemy is very near, but we are standing and fighting back."
He dismisses President Putin's recent referendums as "delusional" and says Ukrainians will not be dictated to at the barrel of a Russian gun.
"In my view, those referendums will change nothing. We will fight Putin's army and make them withdraw from our land," he says.
Oleksandr knows the cost of war – and not only from fighting his own battles.
"My brother died," he tells me, adding: "But I don't know where and when that happened, because he was drafted by a different drafting office from a different region. He died as well as a few of my comrades, officers who trained with me. I found out they were dead, too. So, I have lost family and friends."
He has not lost his will to fight. Neither has 25-year-old Roman, who is operating a key weapon in this war – a drone.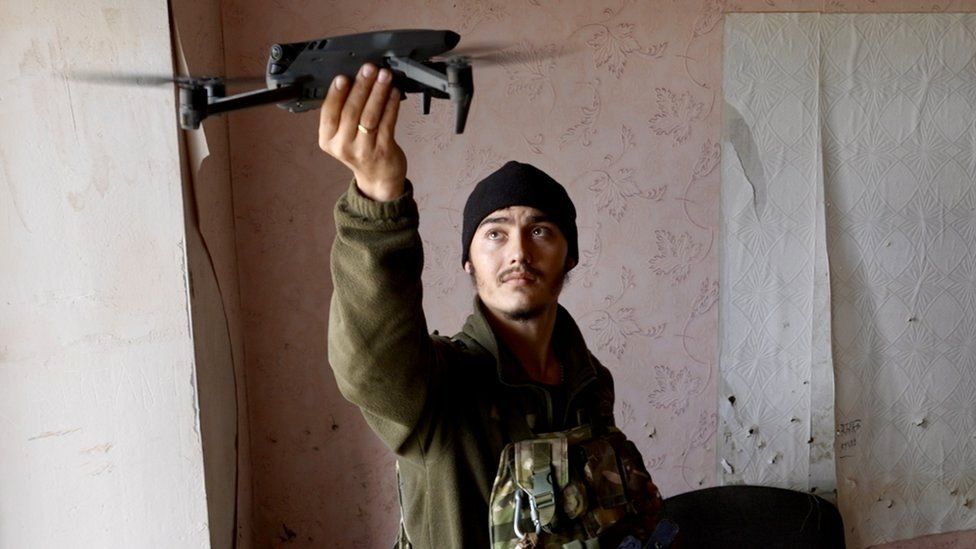 Roman is upstairs in a bombed-out room, littered with debris and broken glass, where two more cats are in residence. The screensaver on his phone is a picture of his five-month-old son Kyrylo, born since the war broke out. He has seen his only child once.
"I see him in pictures and video, not in real life," he says. "It's hard, but it's also hard to imagine what the Russians could do to my family if they reach them.
"I don't want them to do what they did in Bucha. I lived in Kyiv, and I understand clearly how the women feel. If we are weak, they will come for our families."
There is concern here about the mobilisation in Russia. In the coming months the Kremlin will be sending many more soldiers into battle.
It is unclear how well-trained or well-equipped they will be, but the Ukrainians are worried about the quantity, not the quality.
They are already outnumbered. In the battle for Bakhmut they have faced a seemingly endless supply of Russian fighters. In August there were five waves in a row, according to Iryna, an army spokeswoman.
"They just go, and they don't stop. They don't react to firing or shelling. Some of the prisoners of war we captured were from Wagner [a Russian mercenary group]. They had better weapons," Iryna says.
Troops here believe the Russians are pushing hard for victory in Bakhmut because of their recent humiliating defeats in the north-east and the south, where Ukraine reclaimed about 6,000 sq km (2,317 sq miles) of territory.
For now, Bakhmut is stuck in President Putin's throat. It is an obstacle in his bid to swallow all of a mineral rich area known as Donbas – comprised of Donestk and Luhansk. Having failed to fully capture Donbas, he has annexed both regions.
As he tries to conquer Bakhmut – once home to about 70,000 people – the city has been bled of life.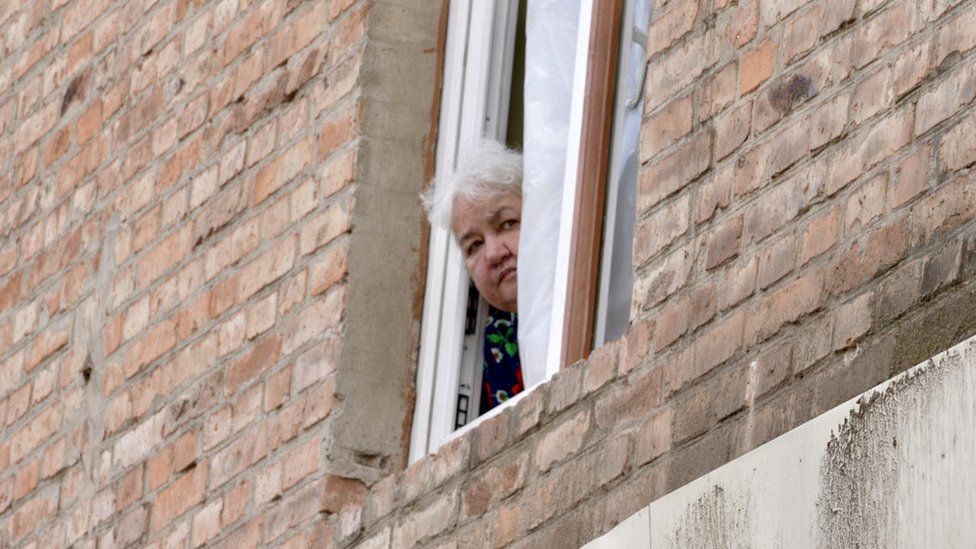 Downtown we see a large apartment block with the centre gouged out by an airstrike three months ago. Many of the windows are boarded up. It looks abandoned, but my colleague hears a woman's cry inside the building.
We call out, and Lyudmila appears from behind the plastic sheeting that covers her window on the second floor. At first, it is difficult to hear her over the deep rumble of rocket fire.
"It's very hard," she shouts. "They bombard us. Yesterday a man was killed in the backyard [by shelling]. There's almost no-one left in the building.
"Everything is leaking. There is water everywhere. All the walls are cracked. It is very difficult. But at least we get humanitarian aid. Every three days, they bring bread."
The white-haired pensioner is living in the shattered building with her husband and a handful of others. "We can't go anywhere," she tells us. "We have no money, and I am in a wheelchair." A neighbour tells us the building has been hit five times.
Lyudmila was in her kitchen when the missile struck on 1 July. "It came, out of the blue," she says. "God himself saved me."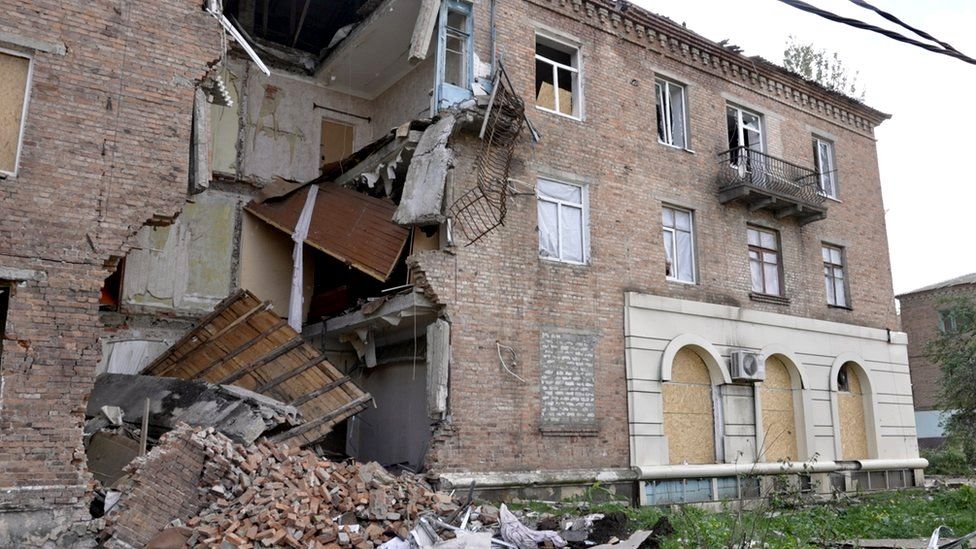 But can this city be saved?
For now, the frontline is holding. Ukrainian forces are blocking the Russian advance. But here even the dead are not safe.
There is an old cemetery on the city's green outskirts, in the path of incoming shells. Mounds of dark soil top the fresh graves – those killed in recent months, since the city became a battleground.
As a coffin is lowered into the ground – watched by a few mourners – the silence is broken by shelling. The first launch is outgoing, but moments later an incoming round lands in the hills opposite the graveyard. Then a second strike, closer still. It is time to leave.
As we race towards the edge of Bakhmut there is an explosion on the road right in front of us, between 100 to 200 metres ahead. We manage a sharp left turn and follow another route out.
Many battles are still raging in Ukraine. President Putin is doubling down – and winter is coming.
This is a dangerous new phase in Europe's newest war.
When asked how long she thought the conflict would last, the army spokeswoman replied: "A long, long time."