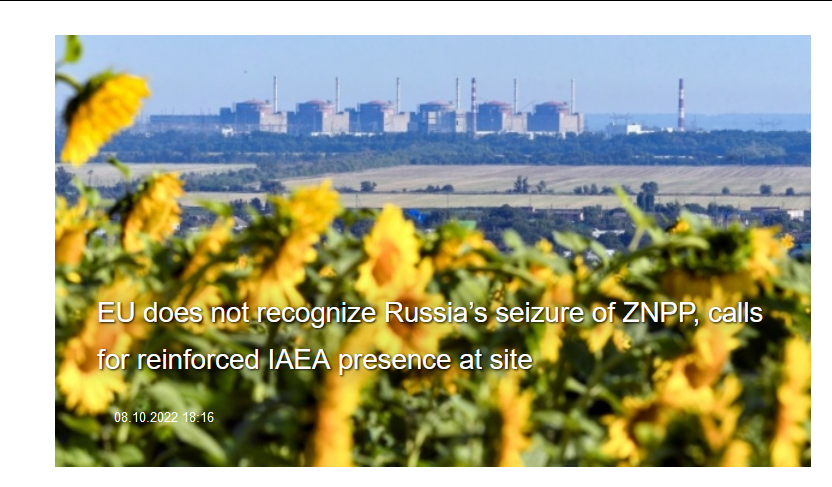 The European Union condemns in the strongest possible terms and will never recognize the decree of Russian President Vladimir Putin on the illegal seizure of the Zaporizhzhia Nuclear Power Plant (ZNPP) and calls for a reinforced IAEA presence at the site.
EU High Representative Josep Borrell said this in a statement published today on the website of the European External Action Service, according to Ukrinform.
"The EU does not recognize and strongly condemns Russia's illegal annexation of Ukraine's Donetsk, Luhansk, Zaporizhzhia and Kherson regions. Consequently, the decree on the seizure of the ZNPP is illegal, and legally null and void," the document reads.
The EU High Representative noted that Russia must fully withdraw its military forces and equipment and hand back control of the NPP to its rightful owner, Ukraine. He stressed that "the seven indispensable pillars of nuclear safety and security" as set out by the Director General of the International Atomic Energy Agency must be fully adhered to and be respected.
"A reinforced IAEA presence at the site and its unhindered access to the plant are urgently needed in the interest of the security of Europe as a whole. A nuclear safety and security protection zone must be established immediately, without prejudice to Ukraine's sovereignty and territorial integrity. The EU strongly supports the efforts of the Director-General of the International Atomic Energy Agency to this end," the EU High Representative said.
It is noted that the EU remains unwavering in its support for Ukraine's independence, sovereignty and territorial integrity within its internationally recognized borders, and demands that Russia immediately, completely and unconditionally withdraws all of its troops and military equipment from the entire territory of Ukraine.
"The European Union firmly stands with Ukraine and will continue to provide strong economic, military, social and financial support to Ukraine for as long as it takes," Borrell stressed.
As reported, Russian troops seized the territory of the Zaporizhzhia nuclear power plant in March. On October 5, the Kremlin officially announced that the power plant now allegedly belongs to Russia.
IAEA Director General Rafael Mariano Grossi stated that ZNPP must be urgently protected, as it has lost the last remaining external power source due to renewed shelling.
iy
---
Source: EU does not recognize Russia's seizure of ZNPP, calls for reinforced IAEA presence at site