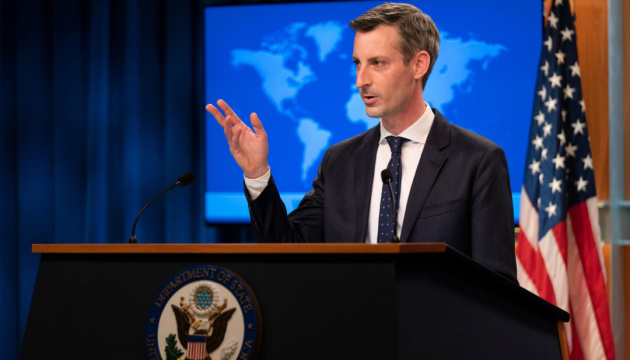 The United States has reaffirmed its policy of no talks on Ukraine without Ukraine at the table, and has no intentions to launch a settlement dialogue with Russia on behalf of the Ukrainian authorities as the Kremlin would wish Washington to do.
That's according to Ned Price, a spokesperson for the U.S. Department of State, who spoke at a Washington briefing on Wednesday, an Ukrinform correspondent reports.
"It is not the role of the United States Government to negotiate on behalf of any other country, and that of course includes Ukraine," said Price.
If there is an opportunity for dialogue and diplomacy to bring an end to the ongoing war, Price added, "that ultimately will have to take place between Ukraine and Russia."
"We're not going to make decisions for, we are not going to negotiate on behalf of Ukraine or any other country," the spokesman concluded.
As Ukrinform reported earlier, Washington criticized Russia over launching massive missile attacks on Ukrainian cities while at the same time declaring readiness for a peaceful dialogue.
Meanwhile, the Ministry of Foreign Affairs of Ukraine says Kyiv is not going to negotiate with Moscow terrorists as long as President Vladimir Putin is in power.
---
Source: U.S. not to hold talks with Russia on behalf of Ukraine - State Department