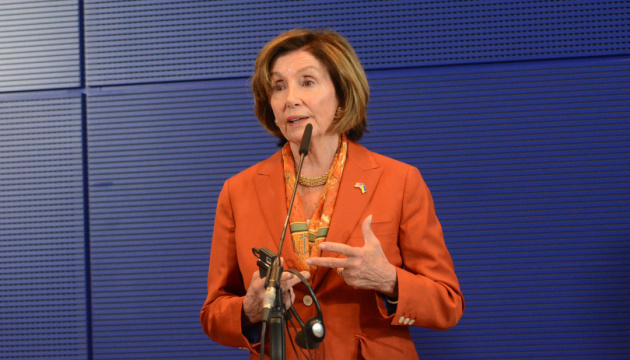 Russian President Vladimir Putin has launched a campaign of horror against the civilian population of Ukraine to escalate a war that he started and is losing, but the United States will support Ukraine on a bipartisan basis until victory is won.
Nancy Pelosi, Speaker of the House of Representatives of the U.S. Congress, said this in her remarks at the First Parliamentary Summit of the International Crimea Platform, according to an Ukrinform correspondent.
Pelosi noted that eight months into Russia's unprovoked and unjustified war against Ukraine, the deaths, displacements and destruction continue.
"In the last two weeks alone, Putin has launched a further campaign of horror – […] with drones against cities visible from the streets, designed to terrify and to kill. The Congress condemns the actions of Iran in supplying these kamikaze drones. Putin is also targeting and destroying Ukraine's power stations, seeking to deprive the Ukrainians of heat and power as winter approaches. Using rape, kidnapping and other atrocities, kidnapping of children as a weapon of war is outside the circle of civilized human behavior. Attacking civilian infrastructure is a war crime. Putin's latest attack has escalated a war that he began and that he is losing," she said.
In this context, Pelosi noted that the countries of the civilized world had promised to support Ukraine and the Ukrainian people.
"All of us here pledged to stand with Ukraine and the Ukrainian people, recognizing their courage in Crimea and other territories that he [Putin] has attempted to illegally annex, until victory is won. And that is what we will do – until victory is won," she said.
---
Source: Pelosi: U.S. will support Ukraine on bipartisan basis until victory is won