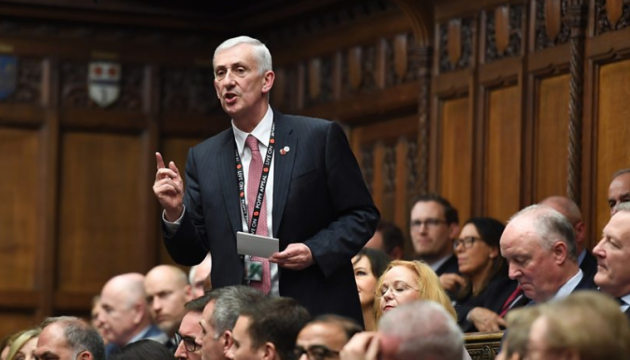 Parliamentary democracies represented at the Crimea Platform Summit should together send a crystal clear message to Russian president Vladimir Putin: he cannot and will not win the war he has unleashed against Ukraine.
Lindsay Hoyle, Speaker of the House of Commons of the United Kingdom, made a corresponding statement at the First Parliamentary Summit of the International Crimea Platform via video link, an Ukrinform correspondent reports.
Hoyle noted that the Parliamentary Summit of the Crimea Platform was taking place at an extremely critical time as the war against Ukraine had taken a dangerous and sinister turn in recent weeks.
"The wave of missile strikes on cities across Ukraine has targeted parks and roads used by civilians, proving that nobody is safe from the ire of the aggressor, Vladimir Putin. That is why this summit is so important. We, as heads of democratic parliaments and members of parliamentary assemblies and associations, need to speak as one in defending international law," Hoyle said.
He expressed hope that the participants in the summit would be able to demonstrate to Putin that his actions would only strengthen their unity in supporting Ukraine.
"I am sure that with the strength of the parliamentary democracies stressing the importance of international law, human rights and fundamental freedoms, together we will send Putin a message that is crystal clear. He cannot win. He will not win. And peace and democracy in Ukraine, by the extension of in Crimea, will prevail," the Speaker of the House of Commons added.
He noted that Great Britain fully supported Ukraine and the liberation of Crimea, and also assured that the United Kingdom would continue to stand shoulder to shoulder with the Ukrainian people.
"We will continue to support those Ukrainians fleeing the war, provide military hardware to the Ukrainian armed forces and training to thousands of Ukrainian troops to help them resist this illegal invasion," Hoyle promised.
As reported, the First Parliamentary Summit of the International Crimea Platform has started in Zagreb, Croatia.
ol
---
Source: Speaker of House of Commons: We should send Putin a clear message: he will not win