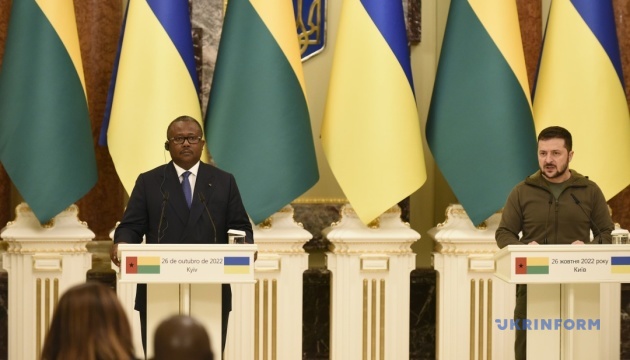 Ukrainian President Volodymyr Zelensky agreed with his Guinea-Bissauan counterpart Umaro Sissoco Embaló on support at international platforms for Ukrainian resolutions regarding a compensation mechanism, a special tribunal for Russia and the Ukrainian Crimea.
The head of state said this at a briefing with the president of Guinea-Bissau in Kyiv on Wednesday, according to an Ukrinform correspondent.
Zelensky said that the first high-level negotiations in the history of bilateral relations took place today with the President of Guinea-Bissau and the head of the Economic Community of West African States.
He noted that Umaro Sissoco Embaló had become the first leader of an African state to visit Ukraine after the full-scale Russian invasion began in late February this year.
Zelensky also informed his Guinea-Bissauan counterpart about new Russian escalatory steps against Ukraine.
"I thanked Guinea-Bissau for supporting the principles of international law and territorial integrity of Ukraine during the vote at the UN General Assembly for a resolution condemning Russia's criminal attempt to annex our territory. We agreed on further support for the Ukrainian resolutions regarding the compensation mechanism and the special tribunal, as well as the Ukrainian Crimea," he added.
Zelensky also said that he had discussed with his African colleague other common challenges facing the two states, including the activities of the Wagner private military company.
The President of Guinea-Bissau, Umaro Sissoco Embaló, is on a working visit to Kyiv on October 26.
---
Source: Zelensky agrees with Guinea-Bissau president on support for Ukrainian resolutions at UN