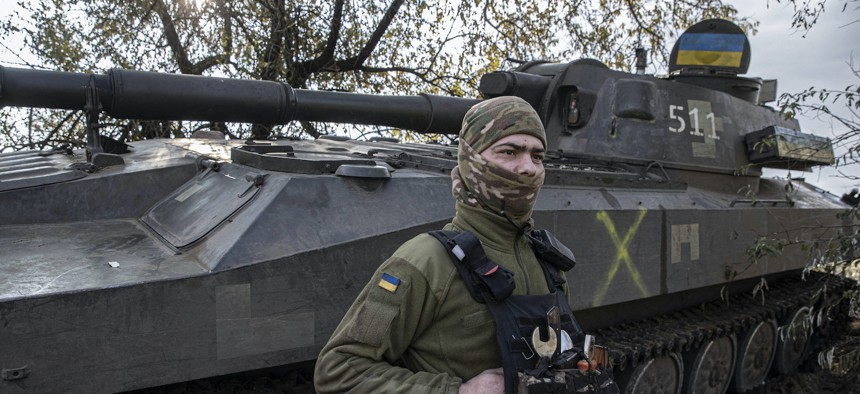 The Russian military on Wednesday announced a retreat from the strategically important Ukrainian city of Kherson, which was the first major city captured by Russian troops after the start of the expanded invasion in February.
In a briefing that was carried by Russia's Channel 24 TV network, Gen. Sergey Vladimirovich Surovikin—Russia's top commander in Ukraine—said his forces were "successfully resisting all of the Ukrainian armed forces" but that they needed to retreat to the east bank of the Dnipro river. Russian Defense Minister Sergei Shoigu, the on-camera recipient of the briefing, agreed.
The announcement comes just six weeks after Russia held a series of undemocratic referendums to annex the region and force Russian citizenship on the local population. It also arrived just hours after Putin-installed administrative head of the occupation in Kherson, Kirill Stremousov, died in what Russian sources describe as a car accident.
The Ukrainian government remains skeptical of the retreat.
"We see no signs that Russia is leaving Kherson without a fight. A part of the ru-group is preserved in the city, and additional reserves are charged to the region. [Ukraine] is liberating territories based on intelligence data, not staged TV statements," Mykhailo Mykhailovych Podolyak, advisor to Ukrainian President Volodymyr Zelenskyy, tweeted on Wednesday.
Nevertheless, Zelenskyy signed an order establishing four regional heads for Kherson.
The collapse of the Russian force to the west of the Dnipro River will bring a wide swath of targets within range of Ukraine GMLRS rockets, noted Rob Lee, a senior fellow at the Foreign Policy Research Institute. These include logistics points in Crimea, damaging Russia's ability to reinforce other units on Ukrainian soil.
"A number of railway stations, ammunition depots, and other logistics points will be within HIMARS range as well," he said. That means Ukraine won't need longer-range missiles like ATACMS—which the U.S. has been reluctant to give—to hit Russian supply and logistics targets on Crimea.
But despite the retreat from Kherson, Russia continues to hold defensible positions elsewhere.
"If Russia can withdraw its units without heavy losses, it will likely be in a stronger position to hold its existing front lines because it can move these reverses around more easily to hold the Donbas and Zaporizhzhia. That is why how the withdrawal is conducted is critical," Lee said.
Michael Kofman, the director of Russia studies at CNA, observed on Twitter that, "Most of the evidence still points to a phased RU withdrawal from Kherson to avoid being cut off. This may result in a complete retreat from the right side of the river. UA also renewing pressure on RU positions and probing a thinning out line."
During a press conference on Wednesday, U.S. President Joe Biden said the retreat shows the Russian military has some "real problems" and that it would allow both sides to "recalibrate their positions" prior to winter.