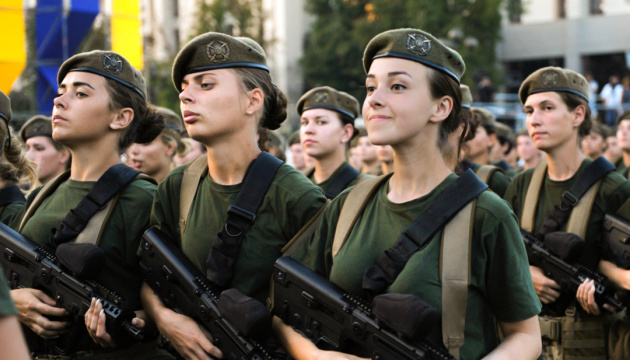 There is a steady trend toward an increase in the number of women in the Armed Forces of Ukraine. Since 2014, their number has increased 2.5-fold, and the number of female officers grew sevenfold.
"We see more women in all categories of personnel of the Armed Forces of Ukraine. In 2014, the total number of women was 49,926, including 16,557 military personnel, 1,633 officers, 4,754 sergeants, 9,707 soldiers, 370 students, and 33,369 civilian personnel. As of March 1, 2023, we already have 60,538 women in the Armed Forces of Ukraine. Of them, 42,898 are military personnel," Liubov Humeniuk, a specialist at the Department of Gender Issues and Relations with Religious Organizations of the Humanitarian Directorate at the Ministry of Defense of Ukraine said during a round-table meeting, an Ukrinform correspondent reports.
She noted the number of servicewomen increased 2.5-fold since 2014.
The number of female officers rose to 7,416, showing a nearly sevenfold increase compared to 2014, sergeants – 11,215, soldiers – 22,832, students – 1,500, and civilian personnel – 18,101.
---
Source: Number of Ukrainian servicewomen has increased 2.5-fold since 2014