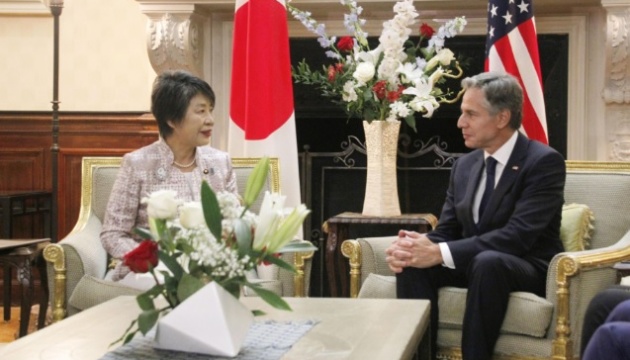 Japan's new Foreign Minister Yoko Kamikawa and U.S. Secretary of State Antony Blinken at a meeting in New York reaffirmed Tokyo and Washington's readiness to continue working together in supporting Ukraine.
That's according to the Japanese Foreign Ministry, Ukrinform reports, citing Kyodo News.
The meeting between the top Japanese and U.S. diplomats on the sidelines of the UN General Assembly session was the first since Kamikawa's appointment as Japan's foreign minister last week.
During the talks, Kamikawa and Blinken also discussed the strengthening of China's military activity in the Asia-Pacific region and emphasized the need to maintain stability across the Taiwan Strait.
They also reaffirmed the significance of the Japan-U.S. alliance and agreed to deepen bilateral and trilateral cooperation with South Korea to counter North Korea's missile and nuclear threats.
Photo: Kyodo News
---