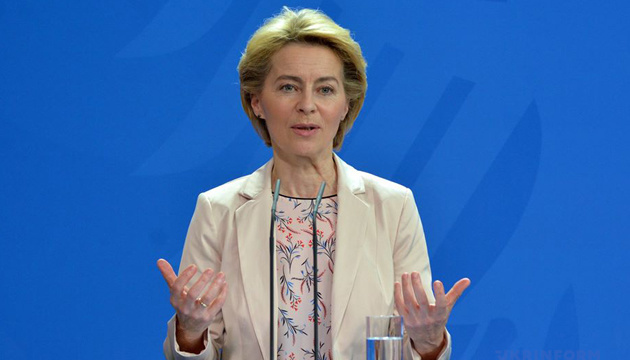 Russia's aggressive behavior and Russia's dubious actions in the midst of the energy crisis in Europe are forcing the European Union to actively seek ways to diversify energy supplies and get rid of its dependence on a sole supplier.
That's according to the President of the European Commission, Ursula von der Leyen, who spoke at the Munich Security Conference on Saturday, an Ukrinform correspondent reports.
"A strong European Union cannot be so reliant on an energy supplier that threatens to start a war on our continent. Gazprom, a Russian state-owned company, is deliberately trying to store and deliver as little as possible," von der Leyen said, recalling that, when gas prices and demand skyrocketed, it was a very strange behavior on the part of the Russian state-run company.
She noted that the European Union should diversify "both our suppliers and our energy sources." This work is already underway with the help of EU partners and friends around the world.
"Even in case of full disruption of gas supply from Russia, we are on the safe side for this winter," von der Leyen said, noting that in the medium and long term, the EU will double the share of renewable sources in the energy balance, including solar, wind, hydropower, and "green" hydrogen, which will strengthen Europe's strategic independence in energy.
As reported earlier, Munich is hosting an annual security conference, which is one of the key analytical forums to discuss the threats and challenges facing the continent.
One of the hottest topics for discussion in Munich this year is Russia's military expansion along Ukraine's borders and the implications of such moves for the entire European and Euro-Atlantic security system.
im
---
Source: Europe forced to cease dependence on sole energy supplier - von der Leyen