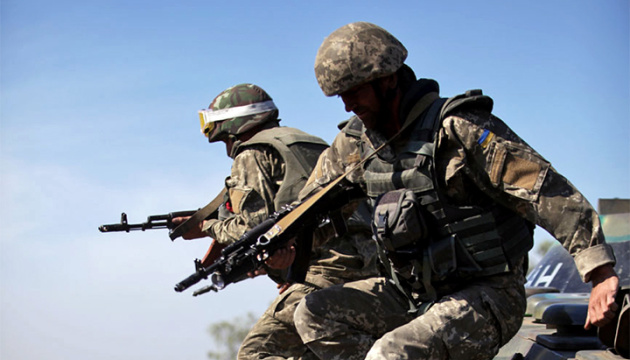 Ukraine's Armed Forces have repelled nine Russian attacks in the Donetsk and Luhansk directions, destroying over 30 units of enemy equipment.
That's according to the General Staff, Ukrinform reports.
"Over the past 24 hours, nine attacks by Russian invaders were repulsed in Donetsk and Luhansk directions; three tanks, eight artillery systems, eighteen units of armored combat vehicles, a special armored vehicle, and another enemy vehicle were destroyed. Air defense units destroyed six Orlan-10 UAVs and one ZALA operational-tactical drone in the said direction," the report reads.
The Russians intensified the use of aircraft to support the offensive of their ground group. Due to the lack of stockpiles of high-precision missile weapons, the invaders are looking for other ways to destroy critical and military infrastructure.
Up to seven battalions of the Belarus army are strengthening protection of the border with Ukraine in Volyn and Polissya directions. The threat of the enemy's missile and air strikes from the territory of Belarus remains in place.
In the Siversky direction, the enemy continues to strengthen the cover of the border, equipping strongholds in Bryansk region. The occupiers continued artillery and mortar shelling of the Ukrainian positions and civilian infrastructure in Sumy region.
In the Kharkiv direction, the Russian focused their main efforts are focused on maintaining the occupied positions. They fired artillery at civilian infrastructure near the village of Rubizhne. In addition, the enemy made another attempt at offensive operations in the direction of Ternova, achieving no gains.
In the Slovyansk direction, Russian enemy units took no significant action, concentrating their main efforts on holding their ground, conducting reconnaissance, and creating conditions for resuming the offensive. The enemy employed artillery, MLR systems, mortars, and tanks near Sviatohirsk and Dovhenke, as well as launched an air strike near the village of Bayrak.
With the support of artillery and army aircraft, the enemy tried to take control of the village of Pasika – with no success.
In the Lyman direction, the enemy intensified hostilities, especially in the area of Lyman where they used artillery and air support.
With the support of artillery fire, the Russians are also conducting an offensive in the direction of Sievierodonetsk, where firefights continue.
In the Bakhmut direction, the Russians conducted offensive operations in the area of ​​Komyshuvakha, Yakovlivka, and Troitsky, with no success, suffering losses.
In the Avdiyivka direction, the enemy doesn't stop mortar and artillery shelling of the Ukrainian positions and civilian infrastructure in the areas of Avdiyivka, Pisky, Maryinka, Orikhiv, and Novosilka. It used assault and army aircraft in the areas of Kamyanka, Avdiyivka, and Novomykhailivka.
No active hostilities were observed in the South Buh area. The enemy shelled Ukrainian forces and launched counterbattery fire, also making engineering efforts at the main roads and bridges.
In order to replenish significant losses of manpower and equipment on the territory of Ukraine, the Russians are forming reserve units from the Southern Military District.
---
Source: Ukraine repulses nine enemy attacks in Donetsk and Luhansk regions