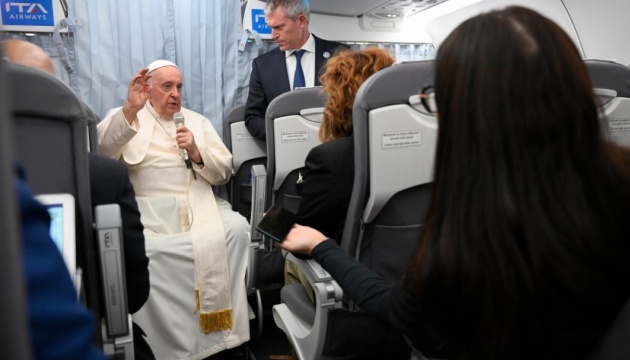 Pope Francis called the Ukrainian people a martyred nation and expressed the opinion that arms dealers are interested in continuting the war.
The pontiff spoke with journalists on board his plane returning from Marseille, Ukrinform reports with reference to Vatican News.
"This war, it seems to me, is caused not only by the Russian-Ukrainian problem, but also by the sale of weapons, arms trade," the pontiff said.
In this regard, the Pope noted that today the most profitable investments are those in factories producing weapons.
At the same time, the pontiff emphasized that the Ukrainian people "have a history full of martyrdom". He recalled that, in particular, during Stalin's time, they suffered a lot.
"This is a martyred nation. But we should not play with the martyrdom of this nation, we should help them solve these problems in the most realistic way possible… Now I see that some country is taking a step back, not giving arms and starting a process, where the Ukrainian people will surely be martyrs. And that's bad!" said the Pope.
As reported, Polish Prime Minister Mateusz Morawiecki said on September 20 that Warsaw does not send any more weapons to Kyiv because it is in the process of own re-armament.
---