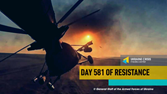 Day 581: Ukrainian troops advance in Donetsk direction, Wagner fighters are back fighting near Bakhmut
Ukrainian troops advance in the Donetsk direction. Wagner fighters are back fighting near Bakhmut. Ukraine is to bolster air defenses to protect energy facilities before winter sets in, the Prime Minister says. Putin is systematically misinformed about Russian military's struggles in Ukraine, Ukraine's intelligence says.
Оригінал статті – на сайті Українського кризового медіа-центру: https://uacrisis.org/en/581
Ukrainian troops advance in the Donetsk direction, President Zelenskyi said Wednesday after a meeting where he was briefed on the situation on the front lines, and supply of ammunition and weapons, and heard intelligence reports. "[Our troops] are advancing in the Donetsk direction. There are other plans that become a reality," Zelenskyi said. He was also briefed on the situation in Kherson region where Russia dropped 26 guided bombs in the past day alone. The President said he issued orders to "find additional solutions to stop the terror".
Russian forces did not conduct offensive operations in the Bakhmut, Kupyansk, and Lyman directions, the General Staff of the Ukrainian Armed Forces said in a morning report on September 27. Ukrainian troops thwarted the attempts by Russian forces to conduct offensive actions in the Maryinka direction and repelled their attacks in the Avdiyivka direction. Ukrainian troops continue offensive operations in the Melitopol direction. Russian sources reported a Ukrainian assault in the Robotyne-Verbove area in Zaporizhzhia region.
Сommander of the Tavria operational strategic group, Brigadier General Oleksandr Tarnavskyi said there is "good news" in the Tavria sector. Wagner mercenaries were back on the battlefield near Bakhmut in Donetsk region, a Ukrainian service member who goes by his call sign "Groove" told CNN. Groove, a drone operator with the unit of the 92nd separate mechanized brigade, nicknamed "Code 9.2" said: "We will be hitting their first line and our guys will be advancing on the enemy." Wagner mercenaries are back fighting in the area near Bakhmut, he added.
"[Russia] gathered troops from surrounding areas and brought them here," he says. "They don't have much personnel left here." After Russia confirmed the death of Wagner chief Yevgeny Prigozhin, the group's mercenaries were not participating in military operations in Ukraine "in any significant capacity," the Pentagon said. Wagner fighters were redeployed from Bakhmut where they were taking heavy losses for months. The private military contractor has reportedly stopped recruiting fighters.
Оригінал статті – на сайті Українського кризового медіа-центру: https://uacrisis.org/en/581
---
Source: Day 581: Ukrainian troops advance in Donetsk direction, Wagner fighters are back fighting near Bakhmut