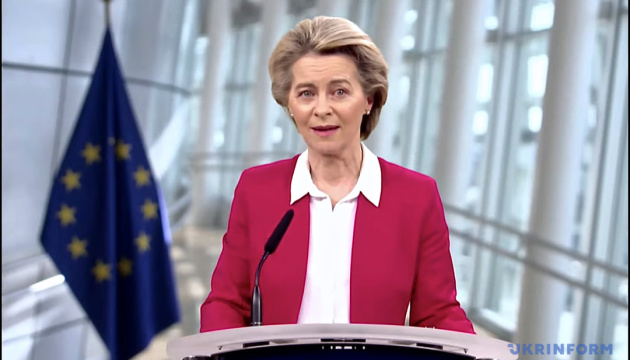 The European Union wants to see Ukraine in, and this will happen over time.
European Commission President Ursula von der Leyen made a corresponding statement in an interview with Euronews.
" We have a process with Ukraine that is, for example, integrating the Ukrainian market into the single market. We have very close cooperation on the energy grid, for example. So many topics where we work very closely together and indeed over time, they belong to us. They are one of us and we want them in," said von der Leyen, when asked whether Ukraine should be granted EU candidate status.
The official also stressed that the European Union had extremely strong solidarity with Ukraine.
"If you look at the refugees who are accepted in the European Union, the financial support, and now the supply of military equipment, all this shows deep solidarity with Ukraine. They share our values. They defend our principles. Ukrainians want to live in a peaceful democracy, and Russia is attacking them. That is why they deserve our full solidarity, and they have it," von der Leyen said.
President of the European Commission noted that the European Union imposed a series of harsh financial and economic sanctions on Russia, greenlighted arms supplies to Ukraine, and ban Russian propaganda channels Russia Today and Sputnik.
In addition, the EU is also expanding sanctions against Belarus, she added.
Earlier, President of Poland Andrzej Duda said at a joint press conference with the presidents of Ukraine and Lithuania that Ukraine deserved to receive the status of a candidate for membership in the European Union, and Poland and Lithuania would do everything possible for that.
European Commission President Ursula von der Leyen said that the European Union was closing the airspace to all Russian aircraft, including private jets.
Putin declared war on Ukraine on February 24 and launched a large-scale invasion. Russian troops have been shelling and destroying key infrastructure. Missiles hit residential buildings.
Martial law was imposed in Ukraine and general mobilization was announced.
Ukraine officially filed a lawsuit against the Russian Federation at the UN International Court of Justice in The Hague.
ol
---
Source: European Commission President: We want Ukraine in EU