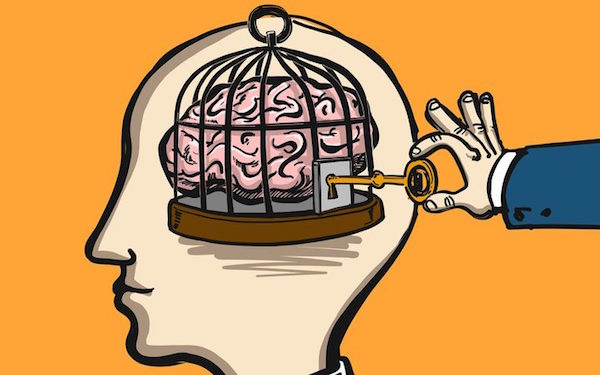 FAKE: Armed Forces of Ukraine block civilians from fleeing towards russian forces that are supposed to "save them"
Source: Комсомольска Правда (https://www.kp.ru/daily/27373/4555222)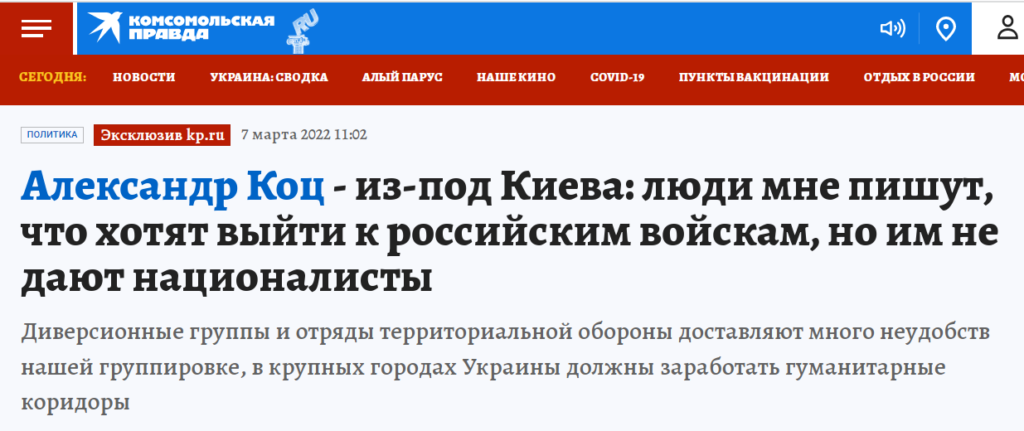 Disproof:
The cities mentioned in this fake (Hostomel, Bucha, Irpin' and Vorzel') are under constant shelling from the Russian Armed Forces. Critical infrastructure was destroyed by the artillery strikes and russian soldiers roam the streets, firing at any civilian they see.
Just today the news spread about the murder mayor of Hostomel, Yuri Prylypko, and two of his friends, Ruslan Karpenko and Ivan Zorya. They were gunned down by russian soldiers while distributing food and medicine to the citizens of the city.
Russian Armed Forces have damaged the rail line out of Irpin, stopping the evacuation trains from the city. Since the russians also open fire on any civilian vehicle, The Armed Forces of Ukraine and the Territorial Guard are conducting an on-foot evacuation of denizens of stricken cities. Contrary to the statements of Russian leadership there was no ceasefire and no evacuation route was provided.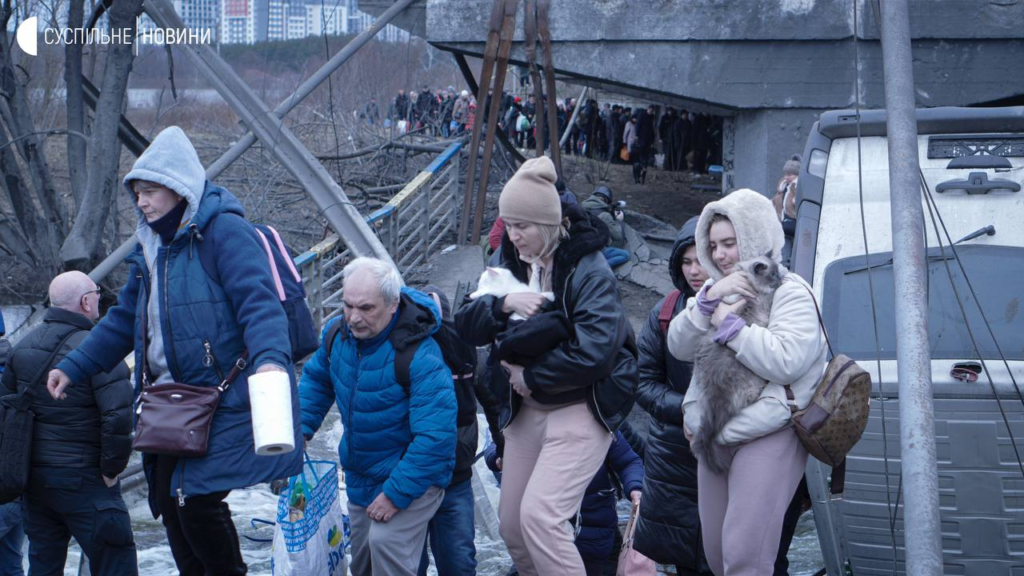 Photo: Irpin' evacuation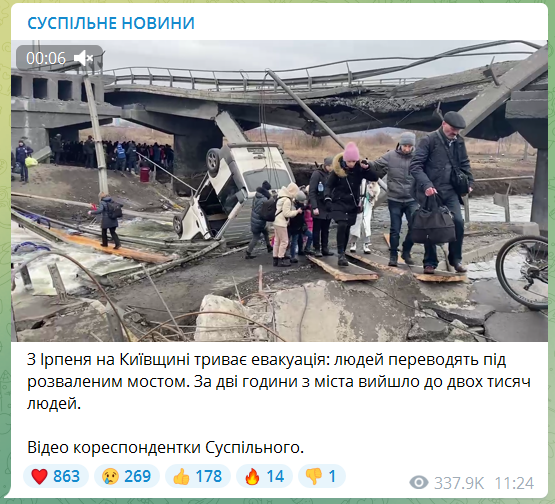 FAKE: Ukraine blocks civilian evacuation routes.
Sources: РИА Новости(https://t.me/rian_ru), СОЛОВЬЁВ (https://t.me/SolovievLive), Mash (https://t.me/breakingmash), Майор и Генерал (https://t.me/mig41), і т.д.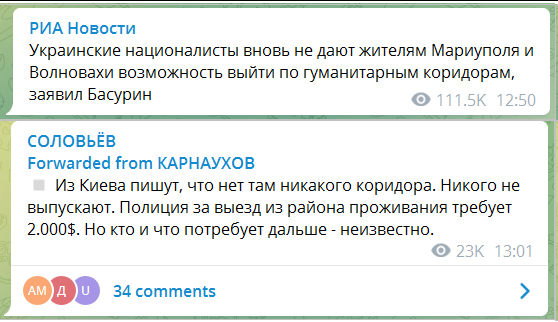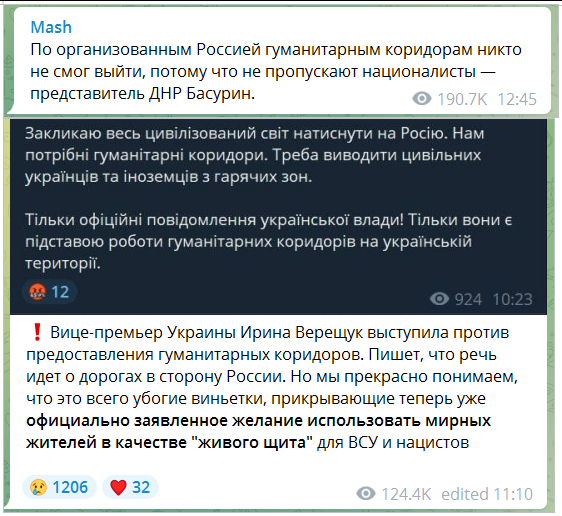 Disproof:
Evacuation routes, proposed by the Russian Federation, all lead into Russian and Belarus territory. The civilian population, at risk due to the Russian military aggression, if evacuated by these routes, would be deposited into the aggressor's territory. This was the stated by Ukrainian vice-prime minister and reintegration minister, Irina Vereshchuk, who called the proposal "absurd, cynic and unacceptable". By creating obviously unacceptable evacuation conditions, the Russian Federation tries to shift the blame for the humanitarian crisis it's creating onto Ukraine, while being the instigator of the conflict in the first place.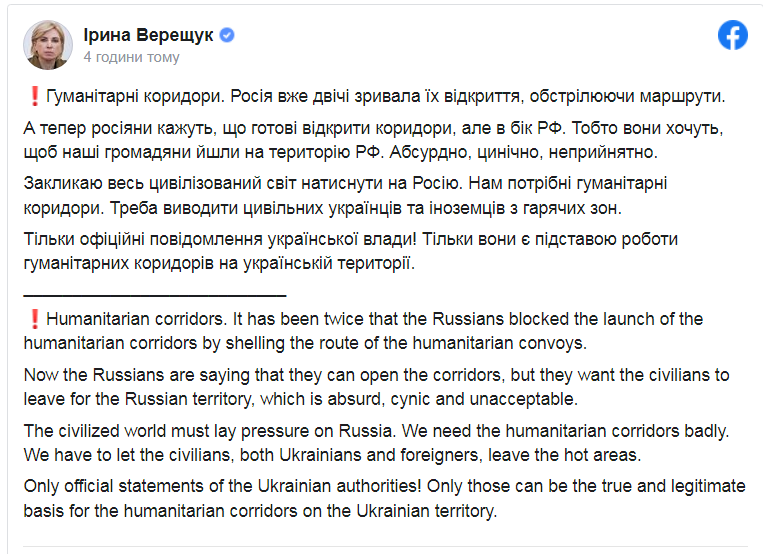 FAKE: Ukrainian nationalists are executing civilians in the cities of Kharkiv and Sumy.
Source: Sputnik Live (https://t.me/sputniklive) with reference to Russian MoD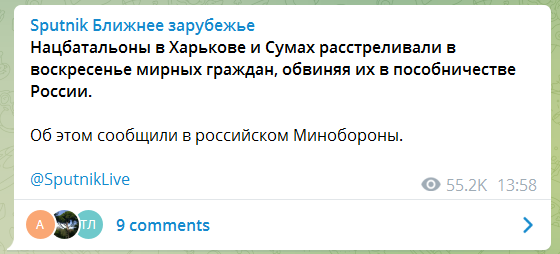 Disproof:
Neither Armed Forces of Ukraine, nor National Guard, nor any other armed Ukrainian organization or unit ever opens fire on civilians. While brutal fighting rages around the cities of Sumy and Kharkiv, dozens of Ukrainian and international journalists are inside those cities. The internet and cellular networks are still up, and the locals continuously post videos and photos of ruination and deaths caused by Russian bombs and shells. The coverage of this war is constant and total. With all that, there is no evidence of any such attack taking place. And, on the contrary, Russian war crimes in those cities are widely known and well documented.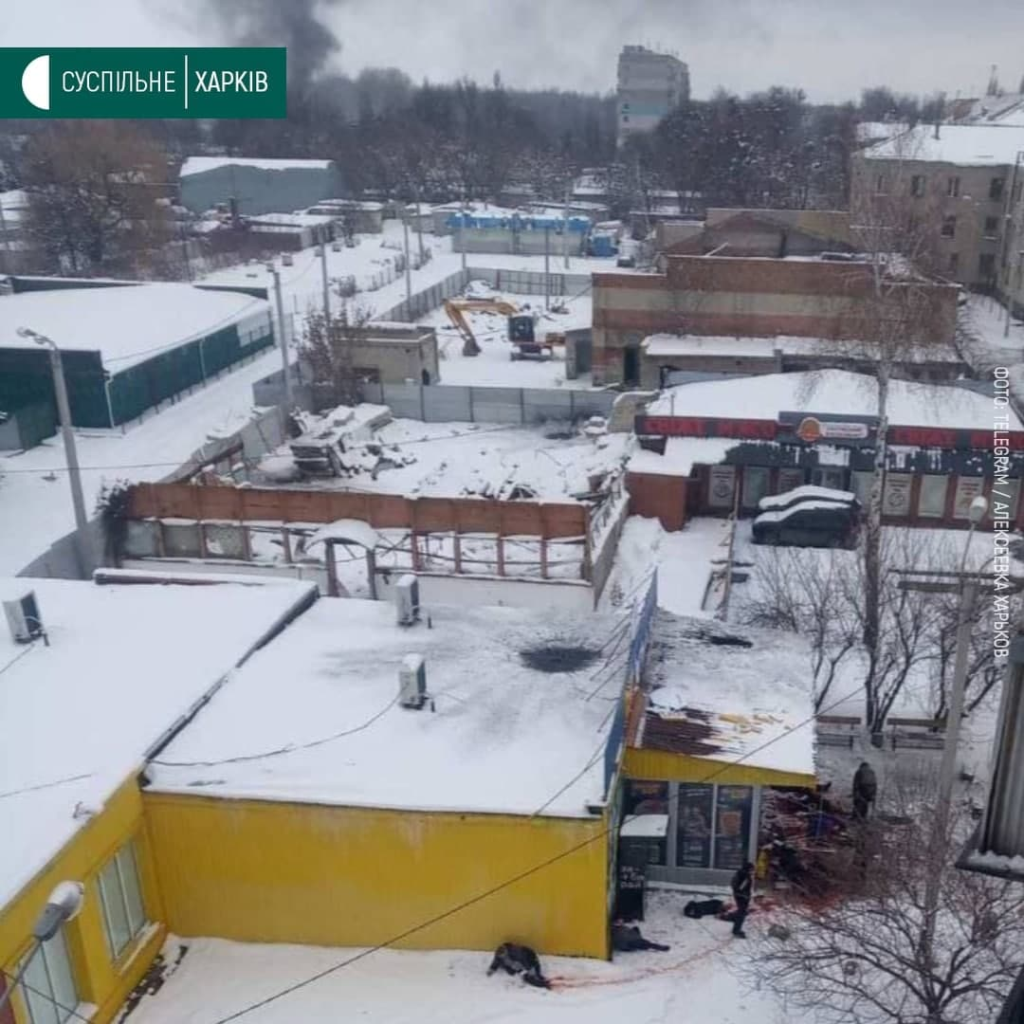 Фото: Обстріл супермаркета в Пятихатках, Харьківська область.
FAKE: Sumy city mayor announced that any civilians leaving by the evacuation routes towards Russia will be executed.
Source: ТАСС (https://t.me/tass_agency) with reference to Russian MoD, РОКОТ Z (https://t.me/surf_noise1)

Disproof:
Oleksandr Lysenko, the mayor of Sumy, never made such an announcement. In his addresses he underlined the absence of proper evacuation routes from the city, and stressed that there is no truly safe way to leave the city. The Governor of Sumy Oblast, Dmytro Zhyvytskyi, in his address also stressed the absence of evacuation routes, and reminded everyone of the multiple cases where Russian soldiers opened fire on civilian vehicles in Sumy Oblast.
FAKE: US built a network of laboratories in Ukraine to produce bio weapons.
Source: ТАСС (https://t.me/tass_agency) with reference to Russian MoD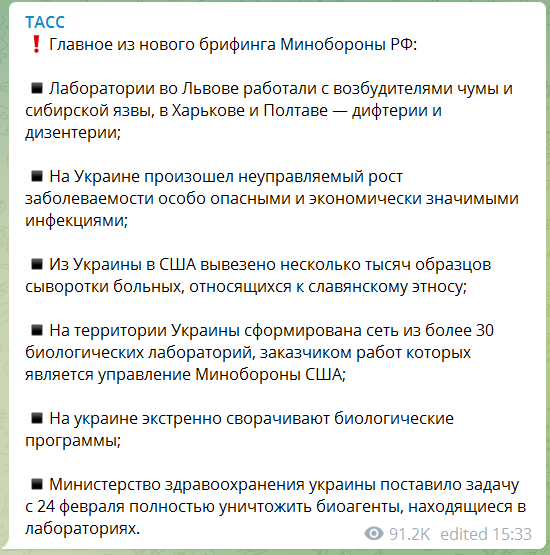 Disproof:
There are no US bio-labs in Ukraine. This fake is one of the oldest in the Russian arsenal, and was first introduced back in 2009. Some variant of this story always surfaces when the tensions between Ukraine and Russia is high. It is used as an element of an information campaign aimed at discrediting the Ukrainian government. In 13 years of its existence no evidence was produced to back it up.