Millions of Ukrainians are encountering Russian propaganda every day. It spreads through TV, radio, mass media, social networks and by word of mouth. To defeat the enemy we must fight it on all fronts. To this end, we have prepared a daily compilation of Russian fakes.
FAKE: Zhytomyr Regional Council has called for a total evacuation of all citizens and a stop of all resistance against the occupying forces
Source: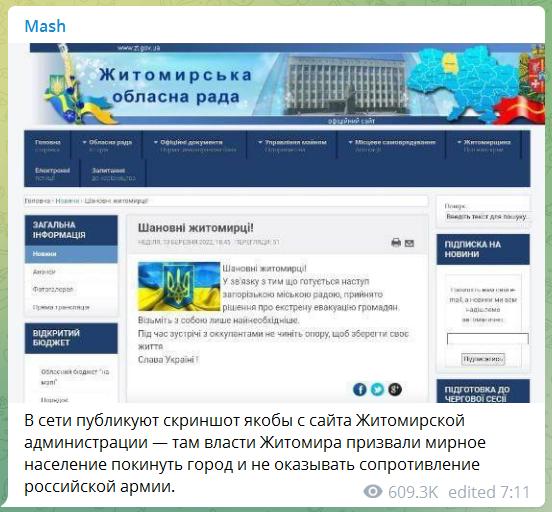 Disproof:
Even the call to the citizens of Zhytomyr is spelled wrong – they used the wrong word for the people of Zhytomyr. Additionally, Zaporizhzhia Regional Council cannot make any decisions concerning the city of Zhytomyr.
Zhytomyr Regional Council has stated, on its Facebook page, that their web-site was hacked. The hackers had posted a false statement about a Russian advance on the city and the order for total evacuation to spread panic through the population. The website is down at this time, its functionality is being restored.
FAKE: German parliament has stated that supplying weapons to Ukraine will only make the situation worse
Source: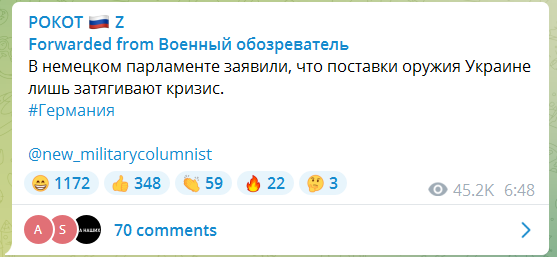 Disproof:
Such a statement was indeed made in Germany on 27th of February, but it was not made by the German Bundestag. It was made by the pro-Kremlin opposition party Die Link. Their statement did not influence the position of the German Government. As of now, Germany is one of Ukraine's biggest suppliers of weapons. Germany had provided thousands of anti-tank and anti-air weapon systems to the Ukrainian Armed Forces since the war had begun.
FAKE: The missile that hit Kyiv was Ukrainian
Source: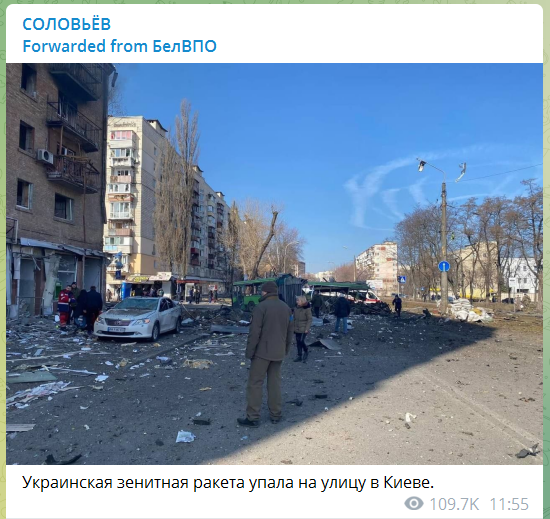 Disproof:
Once again, we can see the attempts to pass the blame for the Russian war crimes onto Ukraine itself. Russian propagandists are using the same story as they did when a cruise missile hit an apartment building near Zhulyany on February 26th. Both of the stories are fake.
According to the official sources, the Russian cruise missile in question was hit by the Ukrainian AA, and the debris crashed onto the city. One person died, six were wounded as a result.
FAKE: Germany does not want to receive trains with Ukrainian refugees
Source:

Disproof:
The news about Germany's refusal to receive Ukrainian refugee trains had spread only through russian and pro-russian websites. In an interview that the propagandists are citing, Paweł Szefernaker, Polish Secretary of State, did not say anything of the sort. On the contrary, he had stated that the refugee problem is the "number one priority", and soon the Polish Government will create a systematic solution. Germany had in no way refused any Ukrainian refugees.
FAKE: US political scientist had admitted that the sanctions are not hurting Putin
Source:
Disproof:
Clinton Ehrlich is not a US political scientist. In truth, he is an imported "researcher" of the Moscow State Institute of International Relations, even though he is an American. Ehrlich had lived in Moscow for a long time. He always pushed the Kremlin narratives, he is a frequent guest of Tucker Carlson, another US journalist that supports Russia. Both Carlson and Ehrlich pushed the idea that Russia had no involvement in the 2016 US election. It's not that surprising, given that Carlson works for republican Fox News.
Most of the real experts, Americans included, state that sanctions could totally destroy the Russian economy.
FAKE: Russian forces had not stormed Ukrainian cities due to Putin's orders
Source:

Disproof:
This story is pure nonsense. In the first days of the invasion, Russian forces had attempted to storm Kharkiv, and were thoroughly defeated. The armored columns that managed to rush into the city were quickly destroyed by the defenders. There was fighting in Sumy and Kherson, and Russian forces are storming Mariupol right now. Destruction and capture of key cities was the main goal of the original Russian invasion plan. That plan failed because of the determined resistance by Ukrainians, bad Russian planning and substandard quality and low fighting spirit of the Russian army.
Be advised: Russia is waging a full-scale information war against Ukraine. There are multitudes of new fakes swarming through the mass-media every day. To protect you and your family, be sure to obtain and share your information only from official sources.
Official information channels:
· Office of the President of Ukraine
· General Staff of Ukrainian Armed Forces
· Cabinet of Ministers of Ukraine
· Ministry of Defense of Ukraine
· Chief Directorate of Intelligence of the Ministry of Defence of Ukraine
· Ministry of Internal Affairs
· State Emergency Service of Ukraine
· State Border Guard Service of Ukraine
· Centre for Strategic Communication
· Centre for Desinformation Resistance
· State Special Communications Service of Ukraine
Information about transportation and infrastructure:
· State Agency of Automobile Roads of Ukraine
· Boryspil International Airport"
· Ukrainian Sea Ports Authority
· Danylo Halytskyi International Airport Lviv
· State Service of Ukraine for Transport Safety
Keep calm and trust only official sources. Ukraine will prevail!