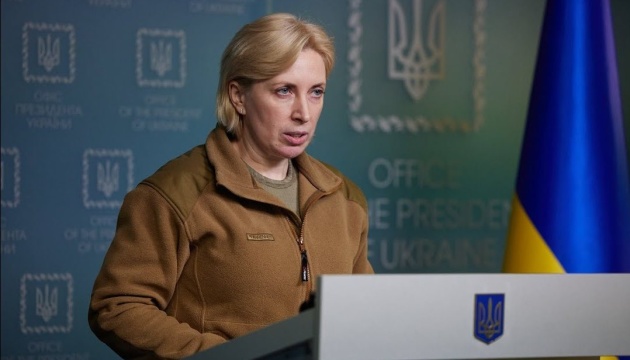 A new legal framework is being developed to allow creating an adequate system that would reflect the reality of dealing with Russian prisoners of war whose number is soaring due to Ukraine's successful combat operations.
This was stated by Deputy Prime Minister, Minister for Reintegration of the Temporarily Occupied Territories Iryna Vereshchuk, who also leads the Coordination Headquarters for POW Treatment, Ukrinform reports citing the press service of the Reintegration Ministry.
"We are not as prepared as we'd like to be, but we'll address the issue swiftly. As of today, Russia remains silent and provides no information on the location where they hold POWs. In our turn, we have allowed the Red Cross to visit those we have captured. They are being interviewed, they are being treated properly, that is, in line with the Geneva Conventions. Russia, is, of course, violating these norms," said Vice PM.
According to Vereshchuk, Russian prisoners of war are held in normal conditions in special cells. What is most surprising is that these so-called 'professional soldiers' are virtually young men, born in 2002 and 2003. Putin and Shoigu sent them to be slaughtered. "I would like to address mothers in Russia. You think that your children were deployed for a drill that will end soon in Belarus or Crimea. In fact, they are being held captive here. And these are not officers – these are young conscripts. And this is also a crime. One can't send children to their certain death. They didn't know even half of what they were doing and committing. All these crimes will become the core of the tribunals to be launched against those who had ordered children from Russia to come here and kill Ukrainian citizens, women and children," the Reintegration Minister said, expressing her position.
As reported, Russian President Putin declared war on Ukraine on February 24 and launched a large-scale invasion. Russian troops have been bombing key infrastructure and residential areas of Ukrainian cities and towns with artillery, rockets, and ballistic missiles.
---
Source: Russia doesn't reveal locations where Ukrainian POWs are held