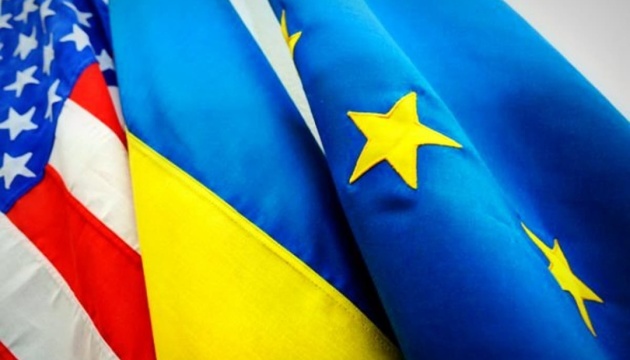 The European Union and the United States will not recognize any "referendums" organized by the Russian aggressors in the occupied territories of Ukraine, including in Kherson.
This was stated at a meeting of the OSCE Permanent Council, an Ukrinform correspondent reports.
In particular, the EU statement issued during the meeting said the bloc strongly condemns the fact that the Russian armed forces have abducted democratically elected mayors and other local authorities, including in Dniprorudne, and demands their immediate release. The EU has also seen reports that Russia may plan another fake "referendum" at gunpoint in Kherson, as well as in other parts of Ukraine.
It is also noted that the European Union has never recognized either the attempt to annex the Crimean peninsula or illegal entities in the occupied part of eastern Ukraine. It will also never acknowledge any other attempt to seize the territory of a sovereign state by force. Russia will be held accountable for gross violations of the UN Charter and the Helsinki Final Act, according to the statement.
The U.S. Permanent Representative to the OSCE, Michael Carpenter, told the meeting that no one would believe Russia's lies about "referendums" in the occupied Ukrainian cities.
This week marks the eighth anniversary of Moscow's fictitious so-called "referendum" in the occupied Crimea. The U.S. sees the same scenario being run again, when the deputy chief of the Kherson regional council tells of the efforts by Russian forces to hold sham elections, which no one will accept. The U.S. will never tolerate such falsifications, he said.
As reported, Russian aggressors intend to hold an illegitimate "referendum" and create a so-called "Kherson People's Republic" in the occupied territory of Kherson region.
---
Source: U.S., EU not to recognize sham "referendums" in Russian-occupied territories