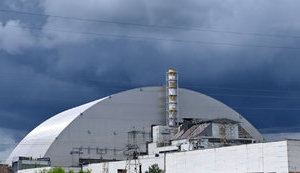 Russian occupation forces continue to militarize the exclusion zone of the Chernobyl nuclear power plant. This seriously increases the risk of damage to the isolation structures built over the fourth reactor of the plant after the explosion in 1986. If this happens, a significant amount of radioactive dust will be released into the atmosphere, which will contaminate not only Ukraine, but also other countries in Europe. The occupiers ignore the threats and reservations and continue to transport and store significant quantities of munitions in the area close to the nuclear plant.
Dozens of tons of rockets, shells for artillery, and mortar ammunition are transported daily by units of the Eastern Military District of the Armed Forces of the Russian Federation from a logistics base deployed in the Narovlyanski district of the Gomel region of Belarus. The transport corridor of the invaders passes through the town of Pripyat and a few hundred meters from the isolation facilities of the nuclear power plant. Further storage of ammunition is carried out in the neighboring town of Pripyat of Chernobyl, which is also located at a short distance from the nuclear power plant. In the city of Chernobyl, the occupants have deployed a temporary command post of a group of troops of the Eastern Military District, as well as the command post of the 38th Independent Motorized Rifle Brigade.
According to available information, the Russian occupation troops are increasingly using old and low-quality ammunition. For example, the 165th Artillery Brigade from Bilogirsk, Amur Region, which is part of the group, has been allowed to use such ammunition. This increases the risk of their detonation even during loading and transportation. Facts of such self-detonation of ammunition in Russian military depots and arsenals are well known and occur regularly," reports the General Staff of the Armed Forces of Ukraine.