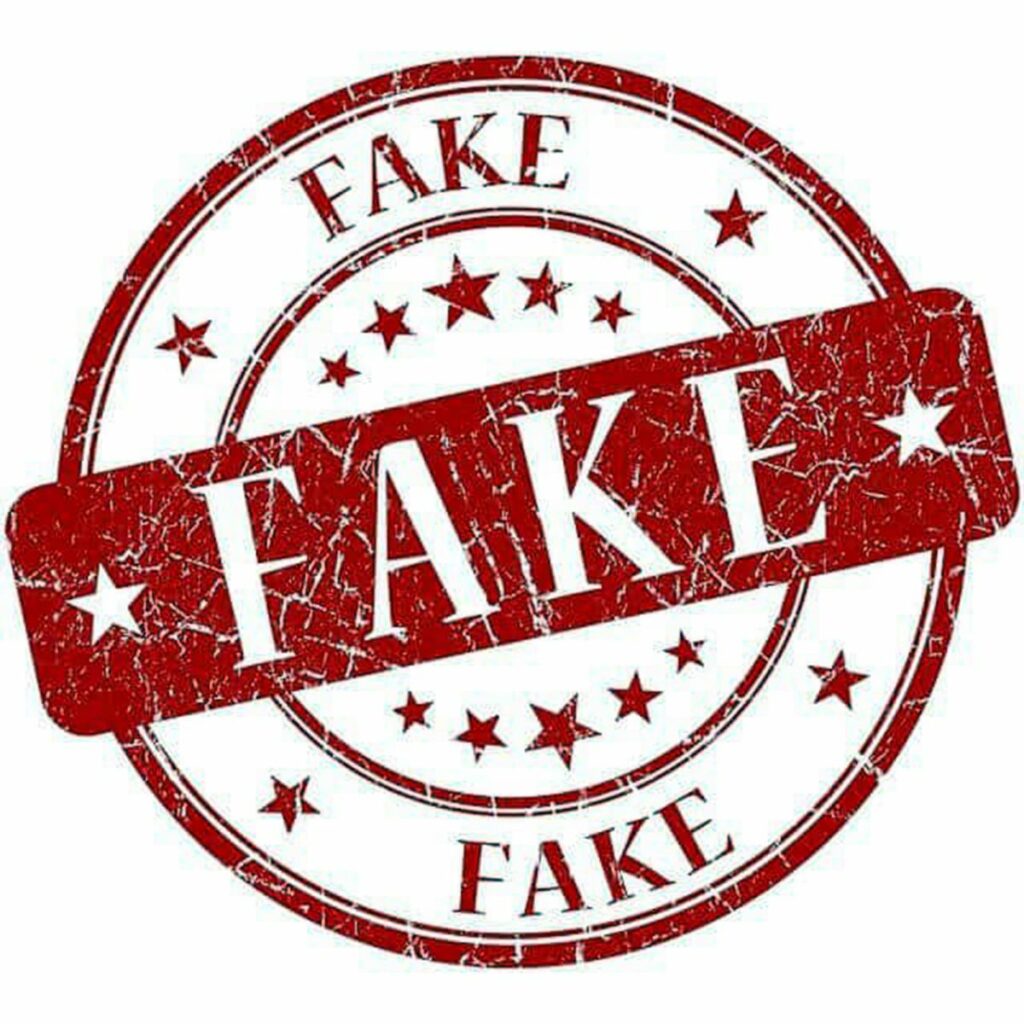 Millions of Ukrainians are encountering Russian propaganda every day. It spreads through TV, radio, media, social networks and by word of mouth. To defeat the enemy, we must fight it on all fronts. To this end, we have prepared a daily compilation of Russian fakes.
Today, the russian information space is dominated by the narratives about the Ukrainian war crimes and the effect sanctions have on Europe. There are attempts to "water down" the understanding of war crimes in Ukraine on the international level. The official statements concerning the war are creating a notion that the Ukrainian army is almost destroyed, and there's only one little push left – the "liberation of Donbas". There is a tendency to repress and hunt dissenters, who are already labeled as "enemy of the people".
Main fake narratives:
Ukrainian soldiers committing war crimes
Sanctions against russia are destroying Europe
Ukrainian biolabs
russophobia is dominating the world
FAKE: There was a secret prison under the Mariupol airport
Source: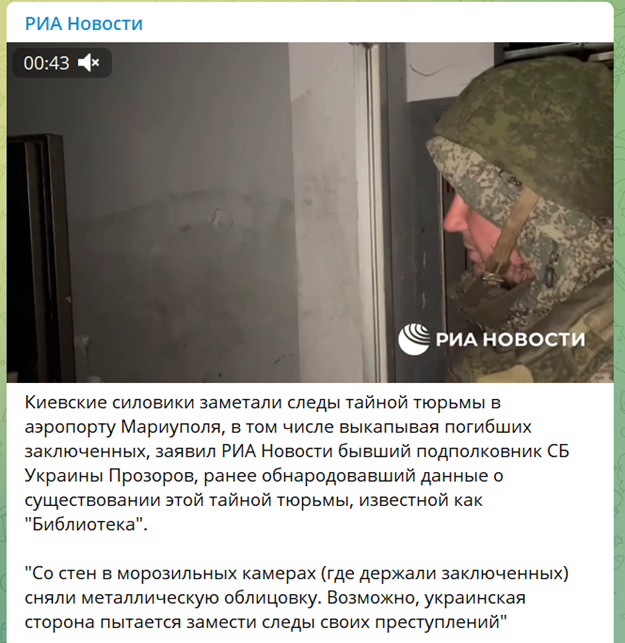 Disproof:
Once again we see baseless accusations of cruelty and torture against AFU, all while russia commits countless war crimes. russian propaganda is making every effort to deflect the world's attention from russian crimes, mask them, or pin them on someone else. As russian actions become more brutal, more such fakes will appear.
FAKE: AFU Commander-in-Chief was caught lying
Source: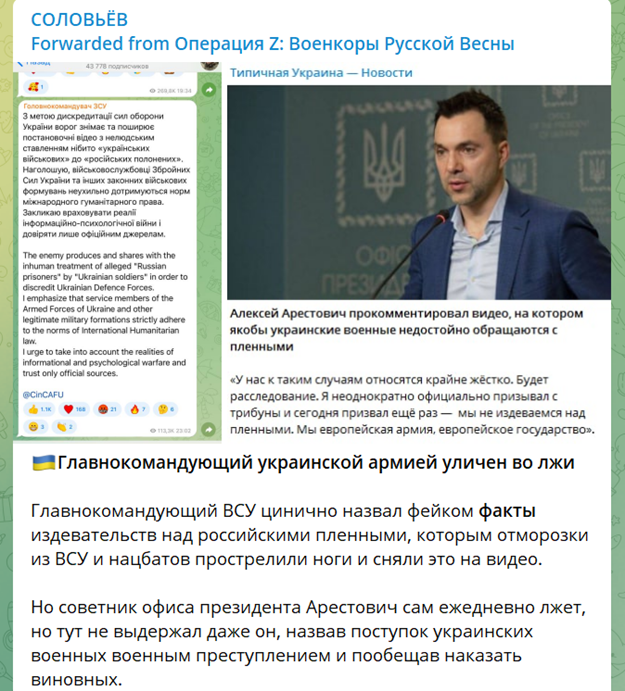 Disproof:
In his address (see picture below) CiC Valerii Zaluzhnyi had denied the claims about Ukrainian soldiers' cruelty towards the prisoners of war, and called the supposed video proof that had appeared on the Internet fake. Presidential adviser, Oleksiy Arestovych, did not confirm the validity of the video, instead stating that an investigation will be conducted, and if the incident shown on the video is found to be real, the perpetrators would be punished. Both statesmen assured the public that the AFU are adhering to the norms of international humanitarian law.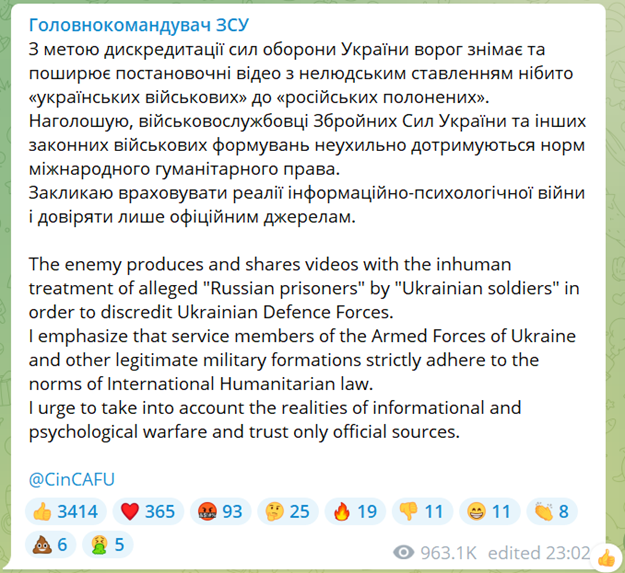 FAKE: The West "does not give a damn" about sovereign rights of other countries
Source:

Disproof:
Such statements are quite ironic. Especially coming from a representative of a country that regularly breaks the sovereign rights of their neighbors, starts wars on their land, threatens the world with nukes, ignores international rules and laws, kills the enemies of the state both at home and abroad, and is one of the world's leaders at violating human rights.
FAKE: The goal of the war against Ukraine is to protect people from genocide
Source:

Disproof:
On March 16 UN International Court had ruled that russia "shall immediately suspend the military operations that it commenced on 24 February." The court's ruling – the first such verdict handed down by the 'world court' since the russian invasion began – is in response to a suit filed by Ukraine on 27 February, accusing russia of manipulating the concept of genocide to justify its military aggression.
The Court had deemed russian accusations of genocide against Ukraine baseless and a distortion of the concept of genocide. russia had ignored the Court's ruling.
Be advised: Russia is waging a full-scale information war against Ukraine. There are multitudes of new fakes swarming through the mass-media every day. To protect you and your family, be sure to obtain and share your information only from official sources.
Official information channels:
· Office of the President of Ukraine
· General Staff of Ukrainian Armed Forces
· Cabinet of Ministers of Ukraine
· Ministry of Defense of Ukraine
· Chief Directorate of Intelligence of the Ministry of Defense of Ukraine
· Ministry of Internal Affairs
· State Emergency Service of Ukraine
· State Border Guard Service of Ukraine
· Center for Strategic Communication
· Center for Disinformation Resistance
· State Special Communications Service of Ukraine
Information about transportation and infrastructure:
· State Agency of Automobile Roads of Ukraine
· Boryspil International Airport"
· Ukrainian Sea Ports Authority
· Danylo Halytskyi International Airport Lviv
· State Service of Ukraine for Transport Safety
Keep calm and trust only official sources. Ukraine will prevail!
The material was prepared by ZMiST. Please follow ZMiST on Twitter and Facebook.