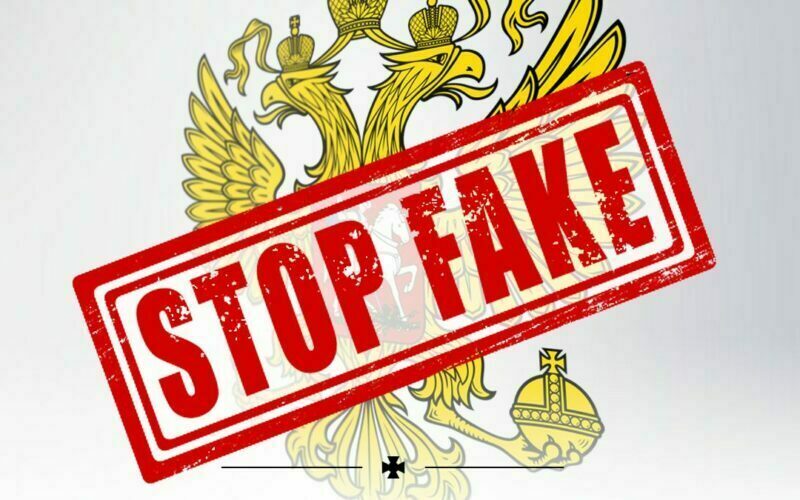 Millions of Ukrainians are encountering Russian propaganda every day. It spreads through TV, radio, media, social networks and by word of mouth. To defeat the enemy, we must fight it on all fronts. To this end, we have prepared a daily compilation of Russian fakes.
Today, the russian information space is still focused on denying russian atrocities and shifting the blame for them onto Ukraine. The world is not reacting to the fakes that russia spreads about the Bucha Massacre and other russian war crimes, so the propaganda is now depicting russia as the victim, explaining the accusations as the result of global conspiracy and russophobia. The narrative about "horrible Ukrainian refugees" is making a comeback. There is also a push against cryptocurrencies – since the population is unable to buy dollars and euros, crypto can be the next reserve currency for russians. That will drop the value of ruble down, so crypto will be banned in the near future.
Main fake narratives:
Russia does not kill civilians
The "Bucha Massacre" is fake
World is blind to Ukrainian war crimes
Ukrainian refugees are causing crime
Sanctions against Russia are destroying Europe
Russophobia is dominating the world
FAKE: The Bucha Massacre is fake
Source: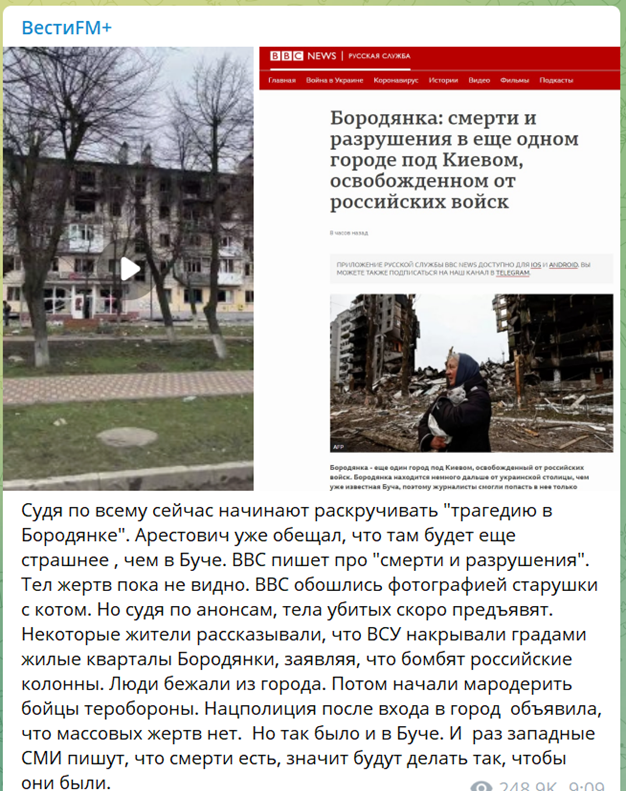 Disproof:
More and more accounts of destruction and crimes are coming out from Borodyanka. The town is reduced to ruins, there are hundreds of dead, the rescue workers are getting people out from beneath the debris. As usual, the russian propaganda is trying to accuse Ukraine of its crimes, but photos, videos, and eyewitness accounts disprove all russian fakes. There will be more of such fakes about "staged" war crimes in the cities and towns that were liberated from russians in the future.
FAKE: Bucha Massacre fake is just like Nemmersdorf Massacre fake
Source: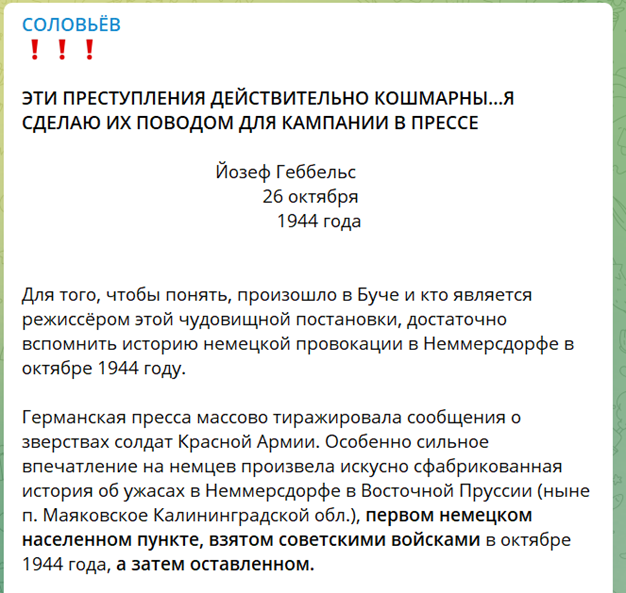 Disproof:
In their attempts to accuse Ukraine of russian war crimes, russian propagandists went a bit too far when comparing the massacre in Bucha with the Nemmersdorf massacre, which they also call fake. But the events that happened in Nemmersdorf, the first German village that was captured by the Red Army in 1944, and the horrible murders and rape of the villagers became known to the whole world. So, by comparing Bucha to Nemmersdorf, russian propaganda was actually telling the truth.
FAKE: President Zelensky is guarded by foreign mercenaries
Source: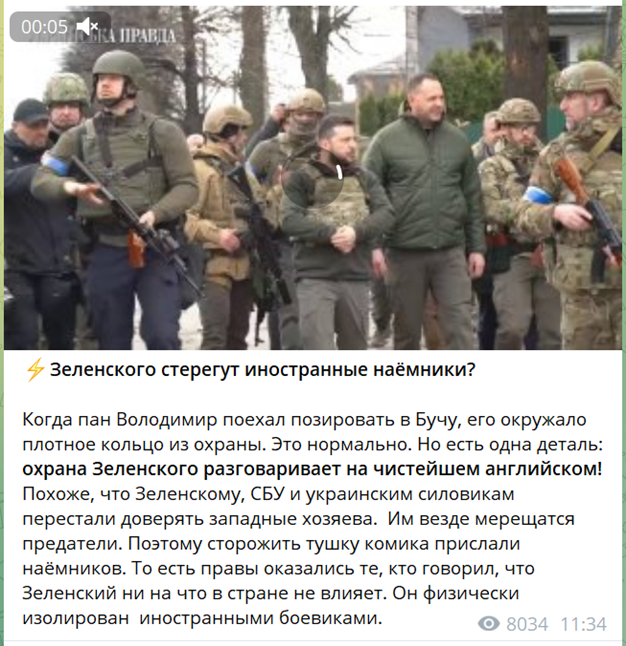 Disproof:
Apparently, for russians, the thought that a person can know more than one language is completely wild, but a large portion of Ukrainians can speak English. Moreover, the President of Ukraine is guarded by special forces operators, and the knowledge of foreign languages is one of their key skills.
In addition, on the "evidence" video that is six seconds long, the guards are talking to the foreign journalists that were accompanying the President in Bucha, telling them to step back a bit. They say four words in English, the modern common language: "Stop here, pull back". Even in those four words, one can hear a Ukrainian accent. Either russians, due to their lack of education, don't know how "pure English" sounds like, or they are simply lying – anyway, this fake is absurd and completely senseless.
FAKE: Ukrainian saboteurs are preparing provocations with dead civilians
Source: 
Disproof:
The intentions of russian propaganda is obvious: they are getting ready for Ukrainian forces to find the sites of russian war crimes in Oleksandrivka. Currently, the battle is raging for Oleksandrivka, and the AFU has already taken neighboring villages. Understanding that Oleksandrivka will be lost to them, russian are trying to hide their crimes by spreading fakes about "planned provocations" on the territories they still control. This is why they can say with certainty where the provocation will happen and what it will look like – russians know what they did and where they did it.
FAKE: Kherson mayor admitted that Kyiv didn't give a damn about the region and collaborated with the occupiers
Source: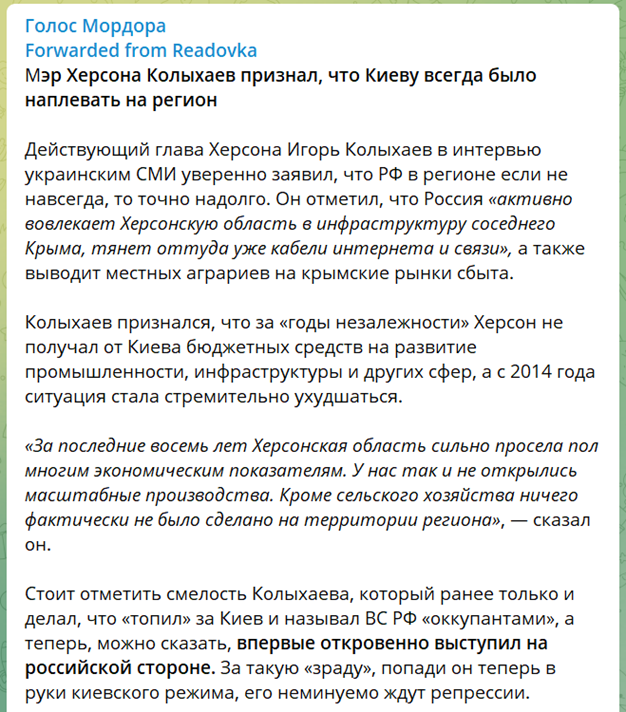 Disproof:
Propagandists are trying to create an illusion that the Kherson mayor had turned traitor. They quote the interview he gave to "Ukrainian Pravda". In it, Ihor Kolykhaiev did indeed complain that his region didn't get the funding he wanted. He also stated that russian occupiers are looting and marauding in the city, kidnapping the locals and hunting the activists, while Kherson is waiting for Ukraine to liberate it.
Be advised: Russia is waging a full-scale information war against Ukraine. There are multitudes of new fakes swarming through the mass-media every day. To protect you and your family, be sure to obtain and share your information only from official sources.
Official information channels:
· Office of the President of Ukraine
· General Staff of Ukrainian Armed Forces
· Cabinet of Ministers of Ukraine
· Ministry of Defense of Ukraine
· Chief Directorate of Intelligence of the Ministry of Defence of Ukraine
· Ministry of Internal Affairs
· State Emergency Service of Ukraine
· State Border Guard Service of Ukraine
· Centre for Strategic Communication
· Centre for Desinformation Resistance
· State Special Communications Service of Ukraine
Information about transportation and infrastructure:
· State Agency of Automobile Roads of Ukraine
· Boryspil International Airport"
· Ukrainian Sea Ports Authority
· Danylo Halytskyi International Airport Lviv
· State Service of Ukraine for Transport Safety
Keep calm and trust only official sources. Ukraine will prevail!
The material was prepared by ZMiST. Please follow ZMiST on Twitter and Facebook.