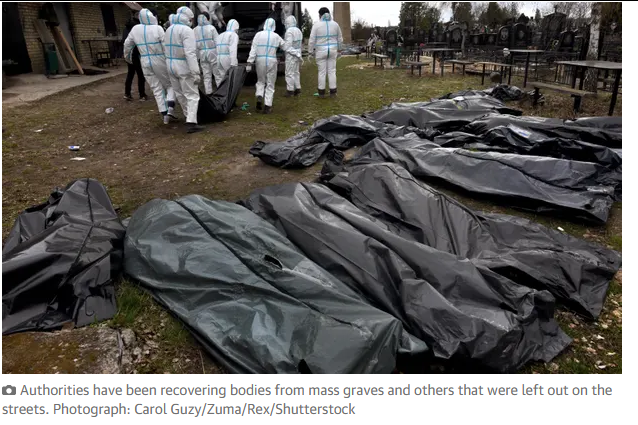 Thirty children among dead found by Ukrainian authorities investigating killings, torture and rape. Ukrainian authorities have collected the bodies of 765 civilians, including 30 children, in the Kyiv area since Russian forces were routed there at the start of April, a senior prosecutor in the region has said.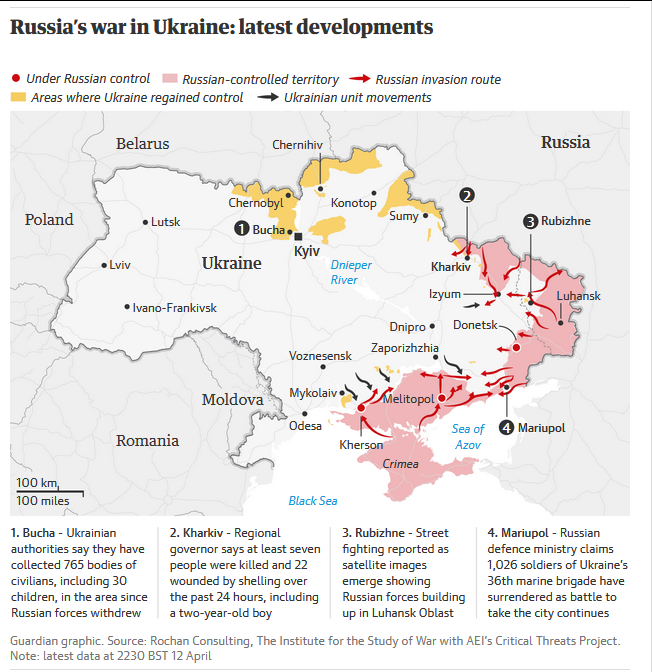 Several mass graves have been discovered since Ukrainian authorities regained control of swathes of the Kyiv region that had been under Russian occupation.
"Documenting each individual correctly takes time and effort. But we need to do this so that we have the evidence so that there won't be any tales about it being a fake," Tkalenko said. "I believe that [Russian soldiers] deliberately left the bodies of citizens they killed on the streets and prohibited people from burying them in order to intimidate the population."
He described three cases of alleged torture against groups of civilians in the region that his office was investigating. Russia has repeatedly denied targeting civilians and said Ukrainian and western allegations of war crimes are concocted.https://interactive.guim.co.uk/uploader/embed/2022/04/ukraine-mapupdate13april/giv-6562Ut7DIbfO3aHP/
Tkalenko claimed that in the town of Motyzhyn, Russian soldiers picked out nine people who they believed had helped the Ukrainian army. Six people were tortured to death and three survived, he said.
"They were stripped naked, put in pits, beaten. They were shot in the legs, arms, and tortured," Tkalenko said. "They starved them."
He said officials had begun work on a larger case allegedly involving more than 40 people in the village of Dymer, north of Kyiv. "They were used as forced labourers. They made them dig their own graves and broke their fingers. They shot near their heads and between their legs. Those who refused to speak, or if they did not like what they were saying, were shot in the arm. They were strangled, their arms were twisted."
The third case under investigation relates to the territory of a golf club near the town of Makariv. Russian forces were using the club as their headquarters and detained a group of local residents. "They were buried alive, forced to dig a grave, beaten," Tkalenko said.
He declined to give exact figures on the instances of sexual violence or rape that had been documented. He said the number of rape cases opened by prosecutors in the Kyiv region was in the tens. He stressed, however, that women were reluctant to file police reports about acts of sexual violence because they believed the perpetrators would not be caught. Instead, they were contacting psychologists and doctors for help.
"People are ashamed to talk about rape," Tkalenko said. "We are approaching individuals and talking to them one by one. People are more ready to talk about torture cases."
The Ukrainian president, Volodymyr Zelenskiy, said on Tuesday the number of rape cases was in the hundreds. A spokesperson for Zelenskiy's office declined to give an exact figure or further details about where the alleged crimes had taken place and against whom. The general prosecutor's office could not be reached for comment on the exact number of cases.
Ukraine's human rights ombudsman, Lyudmila Denisova, said on 8 April that 25 women had been kept in a basement in a house in Bucha and systemically raped.
"It's hard to talk about what goes on in their head," Tkalenko said of the psychology of Russian troops. "But I would say that the Russian army is made up of people who couldn't afford the bribe to get out of conscription. They even stole people's boilers."
Internationally appointed human rights monitors said they had found "clear patterns" of violations of international humanitarian law by "Russian forces in their conduct of hostilities", in a preliminary assessment of the conduct of the seven-week long war in Ukraine.
The three experts, appointed by the 57-country Organization for Security and Co-operation in Europe (OSCE), whose members cover Europe, North America and central Asia, said that had Russia respected humanitarian law and carefully avoided shelling hospitals and other protected infrastructure then "the number of civilians killed or injured would have remained much lower".
"Considerably fewer houses, hospitals, cultural properties, schools, multistorey residential buildings, water stations and electricity systems would have been damaged or destroyed," the monitors continued in a report released by the OSCE on Wednesday.
But it also found human rights "violations and problems" attributable to Ukraine, in particular "the treatment of prisoners of war, who originally were considered criminals" after video emerged that appeared to show Russian soldiers being shot in the leg by their captors last month.
The UN high commissioner for human rights has so far formally recorded 4,450 civilian casualties in Ukraine since the war began, of which 1,892 were killed and 2,558 injured. But the figure is almost certainly an underestimate due to the difficulties of accurate documentation while fighting is ongoing.
Ukraine was one of 45 OSCE countries that agreed to appoint the monitors, but Russia did not cooperate, meaning the monitoring group had to rely on Russian public statements, where available, for its perspective on alleged human rights violations.