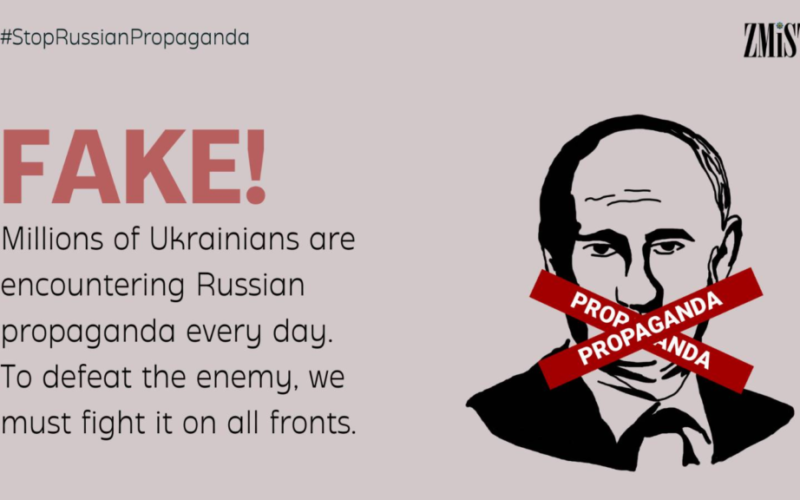 Millions of Ukrainians are encountering russian propaganda every day. It spreads through TV, radio, mass media, social networks, and word of mouth. To defeat the enemy, we must fight it on all fronts. To this end, we have prepared a daily compilation of russian fakes.
Today, the russian information space is mostly focused on russian offensive in Donbas. russian army has achieved some tactical advances, so, as usual, russian propaganda proclaims the impending defeat of Ukrainian forces in the region.
russian occupiers are trying to integrate the Kherson region into russia. Propaganda is spreading fakes about people of Kherson wanting to live in russia and calling for the creation of russian bases in the region "for protection".
The smear campaign against Poland continues, with more fakes about tensions between Poles and Ukrainians. russia is afraid of European unity, so it does everything in its power to break it.
Main fake narratives:
NATO and the EU are orchestrating a global food crisis
The US was developing bioweapons in Ukraine
Poland is planning to capture western Ukraine
Ukrainian soldiers are surrendering en masse
The west is controlling Ukraine
russians don't commit war crimes, Ukrainians do
Sanctions against russia are destroying Europe
The world is dominated by russophobia
FAKE: Ukrainian soldiers are planning false flag operations and using civilians as shields
Source: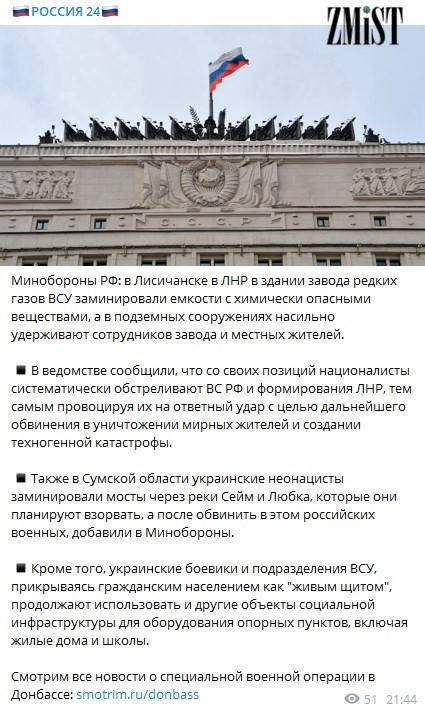 Disproof:
russian propaganda never really stopped accusing Ukraine of planning horrible acts against its own people. Such fakes allow russia to "cover up" their attacks against Ukrainian civilians and civilian infrastructure. This new fake makes it clear that russia will continue its campaign to destroy the Ukrainian nation, and russian attacks against schools, hospitals, refugee centers, and other illegal targets will continue.
FAKE: Ukrainian officers will be allowed to execute soldiers
Source: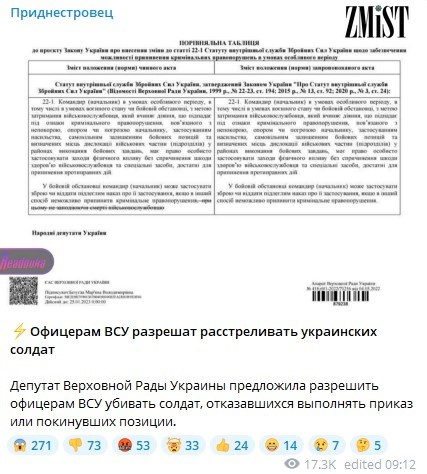 Disproof:
This fake is a part of russian propagandist narrative about low Ukrainian morale. The actual proposal by a group of Ukrainian Parliament members meant to allow offices to use lethal force in self-defense in combat situations when their subordinates are breaking the law. Currently, the use of lethal force is prohibited, but the use of weapons is not.
This proposition was firmly rejected by the Ukrainian Parliament. But, in the eyes of russians, whose pretense of democracy is a sham that exists only to approve laws drafted by putin, this proposition is as good as enacted. In a classic case of russian misinformation, the proposition was portrayed as a basis for creating penal companies and blocking detachments, to force the supposedly crumbling Ukrainian army to fight against its will. It seems that russians can only measure others by their own standards.
Be advised: russia is waging a full-scale information war against Ukraine. There are multitudes of new fakes swarming through the mass media every day. To protect you and your family, be sure to obtain and share your information only from official sources.
Official information channels:
· Office of the President of Ukraine
· General Staff of Ukrainian Armed Forces
· Cabinet of Ministers of Ukraine
· Ministry of Defense of Ukraine
· Chief Directorate of Intelligence of the Ministry of Defense of Ukraine
· Ministry of Internal Affairs
· State Emergency Service of Ukraine
· State Border Guard Service of Ukraine
· Centre for Strategic Communication
· Centre for Disinformation Resistance
· State Special Communications Service of Ukraine
Information about transportation and infrastructure:
· State Agency of Automobile Roads of Ukraine
· Boryspil International Airport"
· Ukrainian Sea Ports Authority
· Danylo Halytskyi International Airport Lviv
· State Service of Ukraine for Transport Safety
Keep calm and trust only official sources. Ukraine will prevail!
The material was prepared by ZMiST. Please follow ZMiST on Twitter and Facebook.