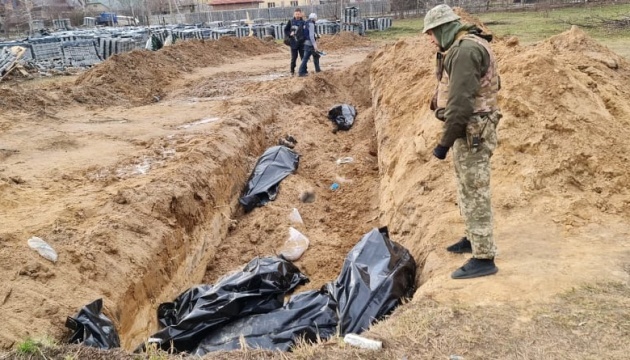 More than 10 mass graves of civilians have been found in Kyiv region so far, but this figure is not final.
"So far, we have found more than 10 mass graves of civilians in Kyiv region. Most of them – eight – are located in Bucha district, the most massive [killings] took place in Bucha, so there were 40 and 57 bodies, respectively. And, unfortunately, this figure is not final," Chief of Kyiv region's National Police department Andriy Nebytov said during the nationwide telethon, an Ukrinform correspondent reports.
Nebytov noted that 418 bodies had been found and examined in Bucha alone, and more than 50 percent of those people died not in the mine blast or under rubble but from gunshot wounds.
"These crimes are terrible, and they are recorded. And thus, I hope, the Russian aggressor will be brought to justice," he said.
Asked how to bring to justice those who committed these atrocities, the chief of Kyiv region police department said that the entire law enforcement system and security forces were currently working under the guidance of the Prosecutor General's Office.
He said that the law enforcement officers hoped that with the involvement of foreign experts, including International Criminal Court specialists, it will be possible to gather evidence to bring organizers and perpetrators of these crimes to justice under national and international law.
ol
---
Source: More than 10 mass graves of civilians found in Kyiv region