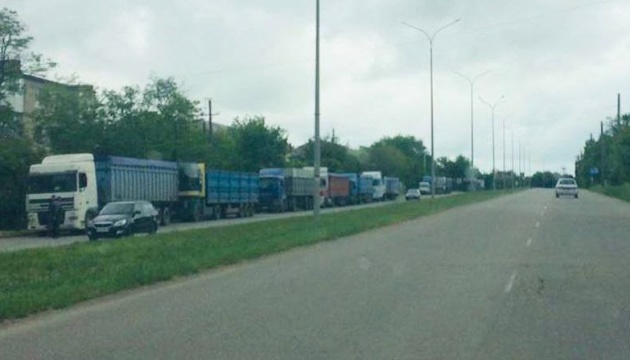 Russian invaders steal the grain from the warehouses in the temporarily captured town of Berdiansk, Zaporizhzhia region, and transport it by trucks to Russia through the Autonomous Republic of Crimea.
As Ukrainian Parliament Commissioner for Human Rights Liudmyla Denisova posted on Telegram, a convoy of grain trucks, stolen from Ascet Shipping company, was spotted on Melitopol highway. Earlier, the company refused to cooperate with the Russian invaders and relocated its capacities to western Ukraine.
Residents of Berdiansk counted more than 30 trucks with trailers loaded with grain near the Azovkabel plant.
According to Denisova, the invaders also try to take the remnants of grain out of the port of Mariupol by rail. To this end, repair works were urgently started on the railway line in Mariupol and Sartana station.
Thus, using the ports of the temporarily occupied Crimea and the city of Sevastopol, the Russian Federation exports the plundered Ukrainian grain by sea to third countries.
According to the Commissioner, the Matros Pozynich vessel, which had already transported the stolen grain to Syria, returned to the Black Sea and was reloaded. After leaving the Crimean port, this vessel indicated Beirut as the port of destination.
Denisova underscores that the theft of food from the occupied territories is a violation of the 1949 Geneva Convention relative to the Protection of Civilian Persons in Time of War and a war crime under Article 8 of the Rome Statute of the International Criminal Court.
Denisova calls on the UN Commission of Inquiry on Ukraine to take into account these facts of war crimes and human rights violations in Russia.
As reported, according to intelligence data, Russia transports stolen foodstuffs on a large scale from the temporarily occupied territories of Ukraine.
As the Ministry of Agrarian Policy of Ukraine informs, as of early May, the Russians stole at least 400,000-500,000 tonnes of grain worth more than $100 million. Almost all ships loaded with grain leaving Sevastopol carry stolen Ukrainian products.
ol
---
Source: Russians take grain out of captured Berdiansk via Crimea to Russia