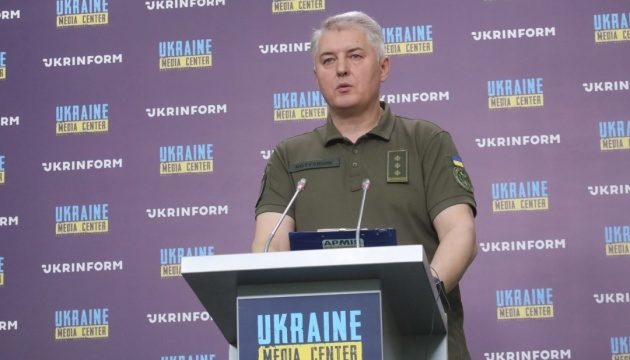 The fiercest fighting is taking place in the Sievierodonetsk, Bakhmut and Kurakhove areas, with the Ukrainian military restraining enemy offensives.
Oleksandr Motuzianyk, spokesman for the Ministry of Defense of Ukraine, said this at a briefing at the Ukraine Media Center – Ukrinform.
"Russian occupying forces do not stop conducting offensive operations in the Eastern Operational Zone in order to establish full control over the Donetsk and Luhansk regions. The fighting has reached its maximum intensity, with Russian troops firing along the entire line of contact and trying to fire artillery deep into our defenses. At the same time, the assault is carried out in several directions. The fiercest fighting is taking place in the Sievierodonetsk, Bakhmut and Kurakhove directions," Motuzianyk said.
He clarified that in the Sievierodonetsk direction, with the support of artillery, the enemy is conducting assault operations toward Toshkivka and Ustynivka. Outside Bakhmut, the invaders are regrouping for a further offensive on Komyshuvakha, strengthening air defense.
"As for Sievierodonetsk, the situation is difficult, street fights are already underway on the outskirts, and Ukrainian servicemen are restraining the enemy's assault. The task of the Armed Forces of Ukraine is to prevent not only an enrcirclement but also any success of the Russian occupiers in all directions. We have optimistic views on this situation, but the situation remains difficult," Moruzianyk said.
He stressed that the Armed Forces of Ukraine are taking all comprehensive measures to prevent the enemy from fulfilling its intentions to surround Ukrainian forces near Sievierodonetsk and Lysychansk.
"Over the past 24 hours, in the Donetsk and Luhansk directions, Ukraine's Armed Forces and other components of the [Ukrainian] Defense Forces have repelled 14 enemy attacks, destroying two artillery systems, eleven armored fighting vehicles and ten enemy vehicles. Air defense units shot down two cruise missiles and three Kub drones," Motuzianyk said.
---
Source: Fighting in eastern Ukraine has reached its maximum intensity - Ministry of Defense