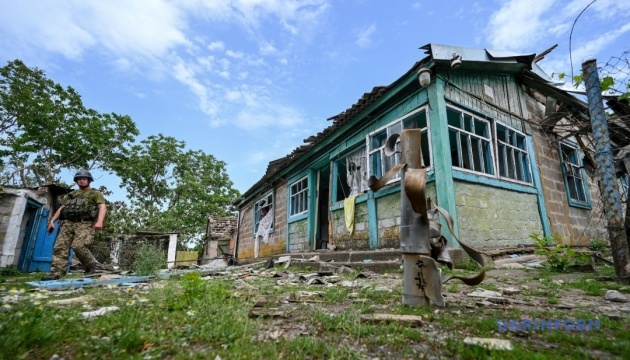 Russian air activity remains high over contested ground in the Donbas with Russian aircraft conducting strikes using both guided and unguided munitions
That's according to an update by British defense intelligence, posted on Twitter, Ukrinform reports.
"With its operational focus switching to the Donbas, Russia has been able to increase its employment of tactical air to support its creeping advance, combining airstrikes and massed artillery fires to bring its overwhelming firepower to bear," the report reads.
"The combined use of air and artillery strikes has been a key factor in Russia's recent tactical successes in the region," intelligence believes.
At the same time, it is noted that the increased use of unguided munitions has led to the "widespread destruction of built-up areas in the Donbas and has almost certainly caused substantial collateral damage and civilian casualties."
The intelligence agency recalled that Russia's inability to suppress and destroy Ukrainian strategic air defense systems in the opening days of the conflict limited its ability to provide tactical air support to ground maneuver elements, contributing to the failure to advance on Kyiv.
Consequently, Russian air activity has been largely restricted to deep strikes using air and surface launched cruise missiles to disrupt the movement of Ukrainian reinforcements and supplies.
"These strikes alone however have failed to have a meaningful impact on the conflict and Russian stocks of precision guided missiles are likely to have been significantly depleted as a result," the update concludes.
As reported by the General Staff of the Armed Forces of Ukraine, the pace of Russian advance in the Donetsk direction is currently low, due to physical exhaustion of personnel and their weakened morale.
According to the General Staff, nine enemy attacks were repulsed in Donetsk and Luhansk regions over the past 24 hours. Ukrainian forces destroyed an enemy tank, an artillery system, six armored combat vehicles, two special armored vehicles, and three trucks. Air defense units shot down a cruise missile, an Eleron tactical reconnaissance UAV, and two Orlan UAVs.
---
Source: British intel names key factor in Russia's tactical successes in Ukraine's east