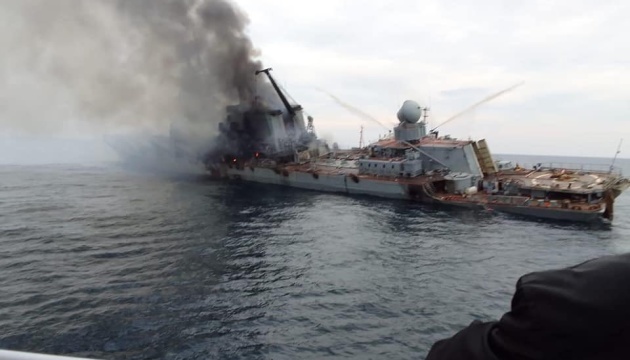 In Russia, the families of sailors from the sunken Moskva cruiser are compelled to withhold information about their dead relatives.
The Main Intelligence Directorate of the Ukrainian Defense Ministry issued the report on Telegram, according to Ukrinform.
The Ukrainian intelligence agency informs that public tension is rising among the families of the Russian navy servicemen killed aboard the Moskva cruiser, the former flagship of the Russian Black Sea Fleet, which sank on April 14, 2022.
A special group of psychologists, doctors and lawyers is working with the sailors' relatives, primarily aiming to prevent any leaks about the dead and missing conscripts.
In particular, families are being persuaded not to talk with anyone about their sons and husbands who served on the cruiser. They are also warned they will receive no compensation for the loss of their loved ones and face criminal prosecution if they fail to abide by the instruction.
During a recent meeting in Sevastopol of the commander of the Black Sea Fleet and families of the killed navymen, the venue was cordoned off by military police, while the commander was accompanied by a spec-ops forces team.
According to intelligence officials, some relatives chose not to meet with the fleet command in an act of protest.
As reported, on April 13, the flagship of the Russian Black Sea Fleet, the Moskva cruiser, which took part in the capture of Snake Island off the Odesa region's coast on February 24, was hit by two Ukrainian Neptun missiles. On the evening of April 14, reports emerged that the cruiser had sunk.
Russia's defense ministry has acknowledged only one death on the Moskva cruiser, claiming that 27 crew members went missing and 396 safely evacuated.
According to Secretary of the National Security and Defense Council of Ukraine, Oleksiy Danilov, a 510-strong crew was aboard the ship at the time of the missile strikes. Only 58 managed to escape the sinking ship.
---
Source: Authorities shush families of Moskva cruiser sailors killed by Ukrainian strike - intelligence