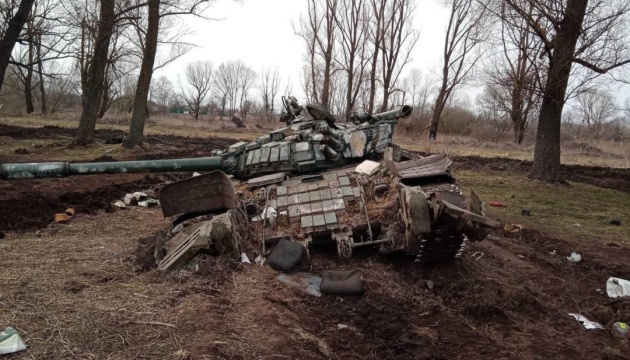 Russian invaders have gained partial success in the Sievierodonetsk direction, but fighting for the city itself is underway. Near Toshkivka, Ukrainian forces have successfully repulsed an enemy assault.
The relevant statement was made by the General Staff of the Armed Forces of Ukraine on Facebook, an Ukrinform correspondent reports.
"In the Siverodonetsk direction, Russian occupiers, with the support motorized riflemen and artillery, carried out assault operations in the city of Siverodonetsk. They had no success, and hostilities continue. On the north-western outskirts of Toshkivka, the Ukrainian military successfully repulsed an enemy assault. The enemy has partial success in the direction of Komyshuvakha and Roty," the report states.
In the Volyn and Polissia directions, the Armed Forces of the Republic of Belarus continue to cover a section of the Belarusian-Ukrainian border in Brest Region and Gomel Region. In order to prevent the exposure of positions and locations of military equipment, local residents are prohibited from visiting forests.
The process of establishing the so-called 'people's militia' has intensified in Belarus. Meetings with local residents are held at military commissariats to clarify the need for such units.
In the Siverskyi direction, small arms and mortar shelling continues within the border areas. The enemy conducts air reconnaissance using unmanned aerial vehicles.
In the Kharkiv direction, Russian troops continue to open fire on Ukrainian forces to prevent them from advancing into the temporarily occupied territory.
In the Sloviansk direction, the enemy did not take active actions. Russian troops are trying to gain a foothold within the captured frontiers. The enemy's efforts are focused on replenishing stocks and regrouping units. Russian invaders launched artillery strikes all over the contact line.
Near Dolyna, the artillery units of the Ukrainian defense forces inflicted fire damage to a group of Russian personnel and military equipment. The enemy's losses are yet to be reported.
In the Bakhmut direction, Russian occupiers launched a missile strike near Kramatorsk. In order to determine the deployment routes and weak spots in the defense of Ukrainian forces, the enemy conducted reconnaissance near Nahirne. The Ukrainian military repulsed an attack and forced the enemy to retreat. Russian troops conducted air reconnaissance, using UAVs, near Kramatorsk and Pokrovsk.
In the Lyman direction, the enemy did not carry out active offensive operations.
The situation remained unchanged in such directions as Avdiivka, Kurakhove, Novopavlivka and Zaporizhzhia.
In the Southern Bug direction, under the cover of artillery and multiple launch rocket systems, Russian troops are building defensive lines, equipping positions and setting up minefields.
In the Black Sea and the Sea of Azov, Russia's naval groups continue to carry out tasks to isolate the area of ​​hostilities and blockade civilian navigation in the northwestern part of the Black Sea.
Ukrainian forces continue to inflict significant losses on enemy troops, firmly maintaining the defense across all directions. Offensive operations are underway in certain areas.
Photo: General Staff of the Armed Forces of Ukraine
mk
---
Source: Ukrainian forces repulse enemy assault near Toshkivka, fight for Sievierodonetsk