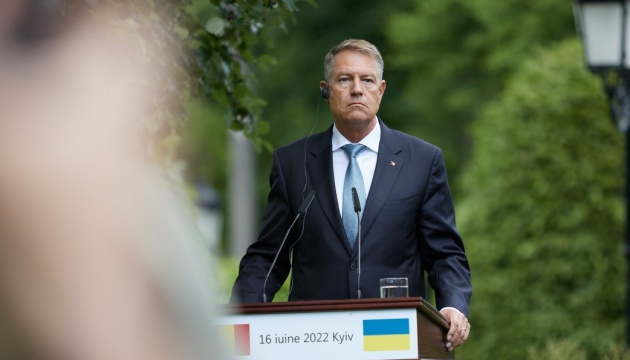 Romania has ensured the transit of more than one million tonnes of grain from Ukraine since the start of Russia's all-out offensive.
Romanian President Klaus Iohannis said this at a joint press conference with the leaders of Ukraine, Germany, France and Italy in Kyiv on Thursday, according to an Ukrinform correspondent.
"We see that there is another element of blackmail from Russia – it has turned grain exports into weapons, with global consequences. Today we talked about possible ways to solve the food crisis," Iohannis said.
He noted that one of them is the transit of Ukrainian exports through Romania, which already serves as a grain pass.
"We are working to find the best solutions for transit through our Romanian Black Sea port of Constanta and also our port on the Danube. Since the beginning of the Russian invasion, the port of Constanta has provided the transit of more than a million tonnes of grain from Ukraine," he said.
Iohannis also said that Russia's unjustified and unprovoked aggression must be stopped.
"We have discussed with President Zelensky concrete ways to overcome this existential threat. We will continue to look for comprehensive solutions on how to help Ukraine resist the Russian invasion," the politician said.
He also noted that 1.23 million Ukrainians crossed the Romanian border and more than 250,000 Ukrainian children went to school. "Ukrainians can count on the Romanian government and the Romanian people as much as they need," he said.
French President Emmanuel Macron, German Chancellor Olaf Scholz, Italian Prime Minister Mario Draghi and Romanian President Klaus Iohannis arrived in Ukraine on June 16. They visited Irpin and held talks with President Volodymyr Zelensky.
Photo: President's Office
---
Source: Romania ensured transit of over 1 million tonnes of grain from Ukraine - Iohannis