Germany has delivered to Ukraine as part of security assistance the first consignment of Panzerhaubitze2000 self-propelled artillery units.
That's according to Minister of Defense of Ukraine Oleksii Reznikov, who broke the news on Facebook, Ukrinform reports.
"We have reinforcements! The first Panzerhaubitze2000s – German Panzerhaubitze2000s with trained Ukrainian crews have joined the Ukrainian artillery family," Reznikov wrote.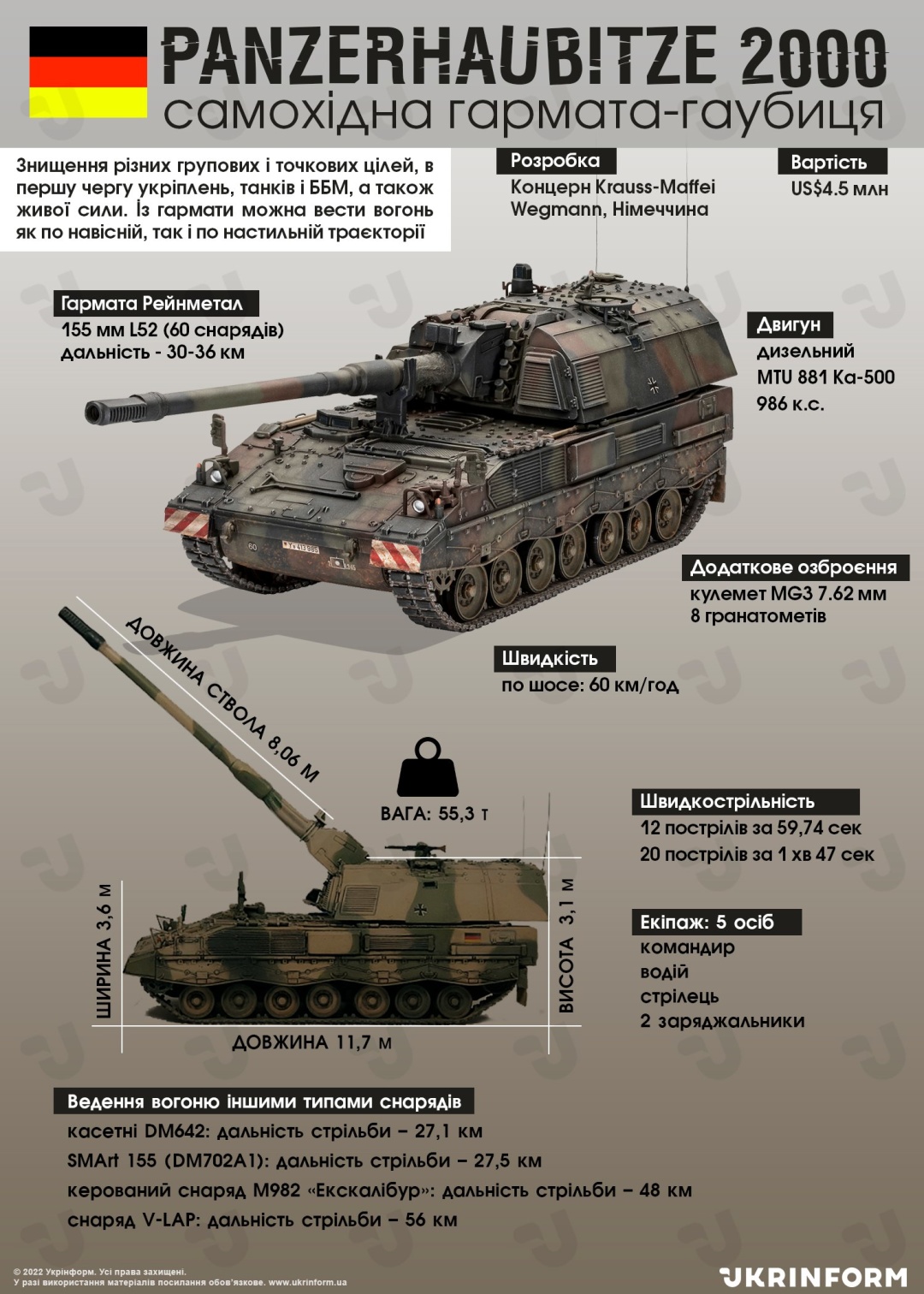 The Minister of Defense noted that this is the 6th type of 155 mm artillery that strengthens Ukraine's defenses. The Armed Forces of Ukraine are already engaging the Russian troops with the following types of artillery: M777, FH70, M109, AHS Krab, and Caesar. "From now on, Ph2000 has joined the club," Reznikov added.
"As always, the Commander-in-Chief of the Armed Forces of Ukraine, General Valeriy Zaluzhnyi will use them on the battlefield with 100% efficiency. Of course, separate great acknowledgements go to our artillerymen, who have already become world legends," said Reznikov.
The Minister of Defense thanked the German partners for their support, adding that Ukrainians "continue to count on its increase."
Reznikov also noted the efforts of his counterpart, German Defense Minister Christine Lambrecht.
As reported, the Panzerhaubitze 2000 (PzH 2000) is a German self-propelled tracked artillery installation developed in the second half of the 1990s by the Munich-based Krauss-Maffei Wegmann. This is one of the best artillery installations to date. PzH 2000 can hit targets at a range of more than 30 km with standard projectiles.
Photo: Oleksii Reznikov, FB
---
Source: Ukraine receives from Germany first batch of Panzerhaubitze artillery units