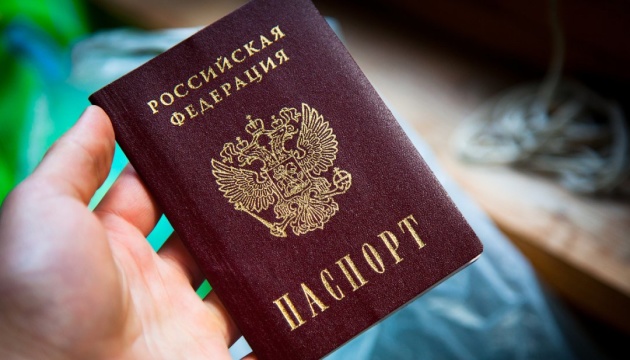 Russia is attempting to boost the integration of the temporarily occupied territories by issuing Russian passports and exerting pressure on the local population, including teachers.
Ukrainian Deputy Defense Minister Hanna Maliar said this during a briefing at the Ukraine-Ukrinform Media Center.
"In violation of international law, Russia continues to open issue points to hand out Russian passports in the temporarily occupied territories, putting pressure on people who found themselves in the temporarily occupied territories. People working at captured enterprises experience the greatest amount of pressure. Russia coerces Ukrainians who were forced to stay in the temporarily occupied territories into cooperating with them. In particular, it concerns educational staff," said Maliar.
She added that most Ukrainian citizens oppose these actions, but the occupiers in the temporarily occupied territories are suppressing these protests.
Hanna Maliar also said that Russia is trying to organize travel between the temporarily occupied territory of Crimea and Kherson region.
The occupiers also continue to illegally export objects of Ukrainian cultural heritages. They also steal grain crops and other food products from captured enterprises.
The deputy defense minister noted that Russia is running information campaigns both in the temporarily occupied territories and in many countries around the world in order to prevent Ukraine from receiving international security assistance.
"Russia is trying to undermine Ukraine's reputation as a reliable partner, trying to find any arguments to convince the Western world that it is impossible or unnecessary to provide security assistance to Ukraine," Maliar said.
---
Source: Russia handing out passports, putting pressure on locals to speed up integration of temporarily occupied areas