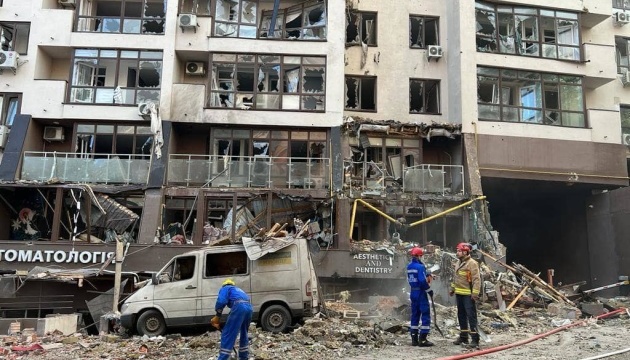 The army of the Russian Federation has launched about 500 strikes on the Ukrainian civilian infrastructure this week.
"The center of the capital was struck. Prosecutors and investigators, as well as experts of the Military Council at the Prosecutor General's Office, are working at the site of the missile attack," Ukraine's Prosecutor General Iryna Venediktova posted on Facebook.
According to her, Russia launched massive missile attacks throughout Ukraine this weekend.
"Shevchenkivskyi, Kholodnohirskyi, and Nemyshlyanskyi districts have been attacked in Kharkiv only over the past 24 hours. The enemy aimed at hospital and houses. This week, four men and one woman were killed in an attack on Industrialny district in Kharkiv. In Kyivsky district, the aggressor country's servicemen destroyed a sports complex. In Kharkiv region, Russian missile and artillery strikes have recently damaged school buildings, dormitories, private houses, and a church.
Six people were killed and six more were injured in an attack on Chuhuiv. The next day, in Chuhuiv again, a shell hit a boiler house, killing two workers, injuring another worker and an 88-year-old woman in her own backyard. In the village. Three women were killed in the village of Udy," the Prosecutor General stressed.
She added that mortar and artillery strikes on Donetsk region destroyed housing sector and damaged enterprises and healthcare facilities. An elderly woman was killed in one of the attacks, and eight locals, including a 9-year-old child, were injured. A mother was killed and her 16- and 17-year-old children were injured when heavy weapons were fired on the town of Chasiv Yar in Bakhmut district. Nine people were injured in the attack, including four children aged 9 to 15.
In Zaporizhzhia region, heavy enemy artillery damaged high-rise blocks and private houses, school premises, a bread factory, a bakery, and other buildings of civilian and critical infrastructure.
Kryvyi Rih district of Dnipropetrovsk region was also under fire. As a result of the enemy shelling, a house of culture, a village council, and a central square of the city, shops, power lines, gas pipeline was damaged.
Apartment blocks and private houses, vehicles, infrastructure objects were damaged amid massive air strikes across Mykolayiv region.
In Rivne region, a missile attack on civilian infrastructure in the town of Sarny killed four people, the identities of two of them are still being established. Another nine people were injured.
Russia commits 100-200 war crimes every day, the Prosecutor General stressed.
As reported, on the morning of June 26, the Russians launched missile strikes on Kyiv, damaging a 9-storey residential building in Shevchenkivskyi district and surrounding infrastructure. According to preliminary data, one person was killed.
Also today, the Russians launched a missile strike on Cherkasy region, killing one person and injuring five more.
ol
---
Source: Russians have launched about 500 strikes on civilian infrastructure this week