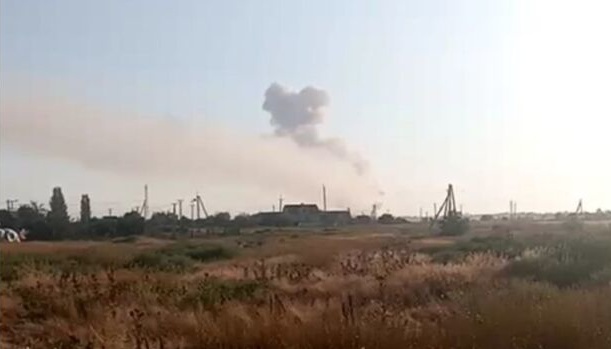 Enemy ammunition detonates near Henichesk due to partisan data, Kherson region, near Russian-occupied Crimea, early on Tuesday, August 9.
Kherson Regional Council deputy Serhii Khlan said this in a Facebook post, Ukrinform reports. "Kherson region. We can congratulate Henichesk on the beginning. Now the Ukrainian Armed Forces reach that area, too. In the morning, Russian ammunition detonated for over one-and-a-half hours at an experimental station (roughly speaking, between Partyzany [Rykove] and Novooleksiivka). We are waiting for official reports," Khlan said.
He added that the Henichesk district is located on the administrative border with Crimea. Now there are no more safe areas for Russian forces in the Kherson region, he said.
According to the Kherson-based Most news site, local Telegram channels of the self-proclaimed regional "authorities" explained that the explosion in Henichesk district this morning had been provoked by "safety violations."
Earlier reports said that Ukraine's Armed Forces killed about 42,640 Russian troops between February 24 and August 9.
Photo: Most
---
Source: Enemy ammunition detonates near Henichesk due to partisans data