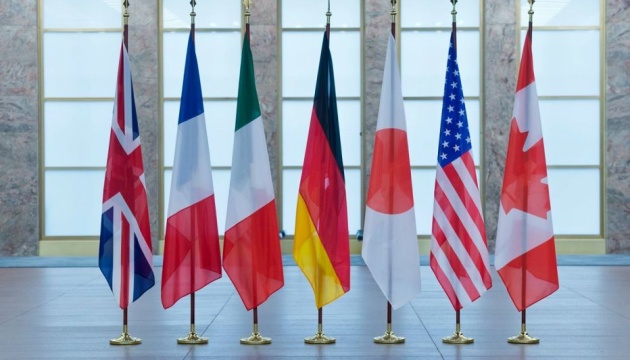 The foreign ministers of the Group of Seven (G7) countries have called on Russia to immediately return full control of the Zaporizhia Nuclear Power Plant to the Ukrainian authorities.
According to Ukrinform, the ministers said this in a joint statement published on the website of the German Foreign Ministry.
"We demand that Russia immediately hand back full control to its rightful sovereign owner, Ukraine, of the Zaporizhia Nuclear Power Plant as well as of all nuclear facilities within Ukraine's internationally recognized borders to ensure their safe and secure operations. Ukrainian staff operating the Zaporizhia Nuclear Power Plant must be able to carry out their duties without threats or pressure. It is Russia's continued control of the plant that endangers the region," the statement said.
The G7 foreign ministers said they "remain profoundly concerned by the serious threat that the seizure of Ukrainian nuclear facilities and other actions by Russian armed forces pose to the safety and security of these facilities, significantly raising the risk of a nuclear accident or incident and endangering the population of Ukraine, neighboring states and the international community."
"IAEA staff must be able to access all nuclear facilities in Ukraine safely and without impediment, and engage directly, and without interference, with the Ukrainian personnel responsible for the operation of these facilities. The safety of all individuals implementing these efforts must be addressed to strengthen nuclear safety, security and safeguards in Ukraine," the statement said.
On August 5, Russian invaders fired at the Zaporizhia Nuclear Power Plant. A high-voltage line was hit, and an emergency fuse engaged at one of the power units.
Three strikes were recorded at the NPP site, near one of the power units where the nuclear reactor is located. The Russian strike seriously damaged the nitrogen-oxygen station and the joint auxiliary building.
On August 6, the Main Intelligence Directorate of the Ministry of Defense of Ukraine reported that the Russian invaders had planted mines at the Zaporizhia Nuclear Power Plant.
On August 8, representatives of the Russian invasion forces in an official statement said that they would be ready to blow up the already mined ZNPP if needed, as reported by Energoatom, Ukraine's state-owned nuclear operator.
The Office of the President of Ukraine has called on the UN and IAEA to deploy special missions to the ZNPP to resolve the crisis.
---
Source: G7 demands Russia return control of Zaporizhia NPP to Ukrainian authorities